Submitted by Bob Bhatnagar on
One thing that hasn't changed much in iOS 7 is powering down the iPhone. Holding the sleep/wake button reveals a red slider with the text "slide to power off". Swiping from left to right will power down the device. Now thanks to developer HASHBANG Productions, additional sliders can be added to the power off display.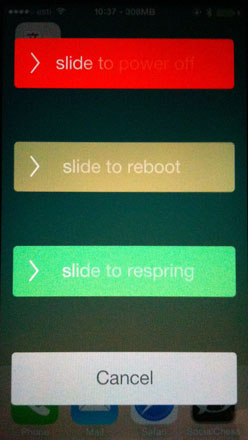 New sliders added by the free tweak RePower consist of a yellow "slide to reboot" slider and green "slide to respring". The options are especially useful for jailbreakers, since there are times when tweak settings require a respring, but not a full reboot. RePower also features some settings to customize its behavior.
The red, yellow and green sliders are relatively new in this tweak. To bring back an older layout, there's a toggle under Settings -> RePower. The older design, pictured below, uses buttons instead of sliders and displays the time since last boot.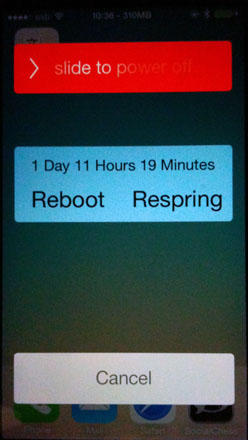 The last option in this relatively simple tweak changes the Respring slider into a Safe Mode slider. Swiping this one will immediately enter the iPhone into safe mode, to help with diagnostics or remove a tweak that's crashing iOS 7. The newer layout blends right into iOS 7, matching the look and feel of the default power down slider.
RePower is available on Cydia from the BigBoss repository free of charge. Look here for
instructions on how to jailbreak iOS 7.x with evasi0n 7
. You can also find out
how to purchase and install Cydia tweaks with this guide
.