Submitted by Bob Bhatnagar on
With the jailbreak tweak SBRotator for iOS 8, any iPhone can rotate its home screen like the iPhone 6 Plus. Normally, turning the iPhone to a landscape orientation only rotates the display in supported apps. With the extra real estate on the iPhone 6 Plus display, app icons rotate horizontally and the dock moves to the right side of the screen.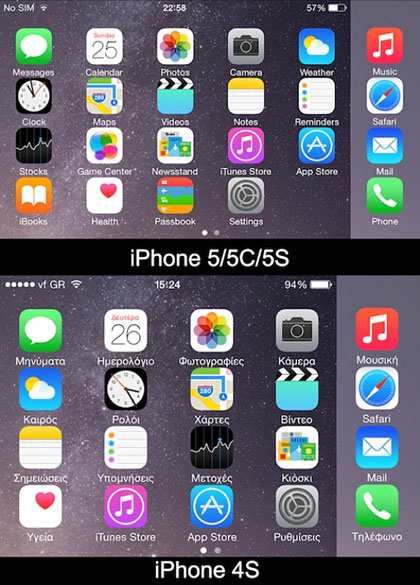 Once installed, the iPhone 4S, iPhone 5/5s/5c, and the iPhone 6 gain this home screen rotation capability. Not only this, but there's an option to keep the dock along the bottom of the screen like an iPad, instead of moving it to the side like the iPhone 6 Plus. Even iPhone 6 Plus users can use SBRotator to change their rotation mode to the iPad style.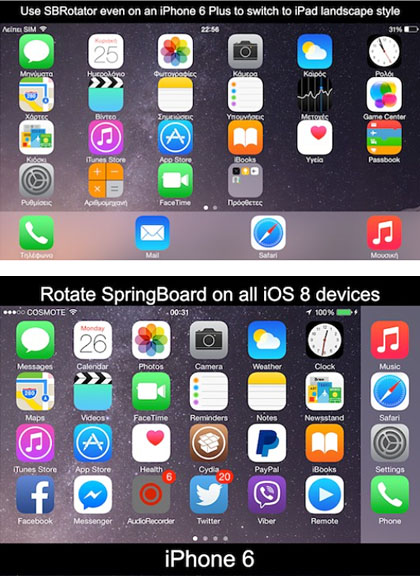 SBRotator for iOS 8 can be customized in the Settings. Besides a toggle to disable the tweak entirely, the SpringBoard and the lock screen can be independently toggled for rotation or to stay put. The rotation style is also selected in Settings, with both iPhone 6 Plus and iPad flavors available.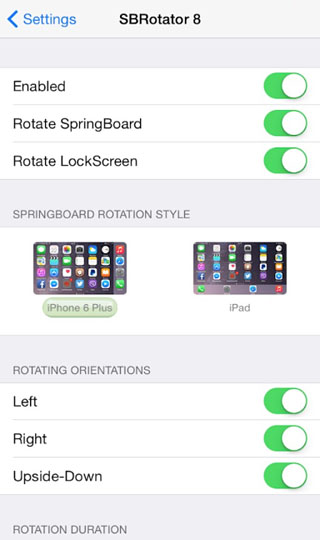 Other details include the rotation duration and various orientations to choose from. For anyone wishing their iOS 8 home screen would rotate like the iPhone 6 Plus, or who would rather have their iOS dock behave like an iPad, SBRotator for iOS 8 will do the trick. All iOS 8 devices can also gain lock screen rotation with this tweak.
SBRotator for iOS 8 is available from the BigBoss repository on Cydia for $2.99. Updating from an older version is free. To start customizing iOS, click here for instructions on jailbreaking iOS 8.0-8.1.2. Those with older firmware can jailbreak with Pangu (iOS 7.1) or evasi0n 7 (iOS 7.0). Find out how to purchase and install Cydia tweaks with this guide.
Follow the iPhoneFAQ Twitter feed and stay tuned to Facebook for the latest jailbreak tweaks and news.