Submitted by Bob Bhatnagar on
Guest mode still hasn't arrived in stock versions of iOS. This means that iPhone users can be at the mercy of anyone who borrows their device. Luckily for those who have jailbroken, there's a solution that makes it possible to easily enter guest mode before handing over the hardware. Much like iPrivacy did for iOS 5 and 6, the tweak GuestMode brings this functionality to iOS 7.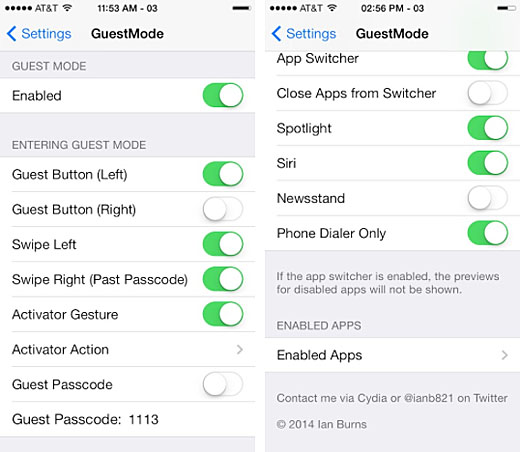 Once installed, there are several ways to configure guest mode and its activation. Options include a special passcode that will enable guest mode, or the addition of a Guest button directly on the passcode lock keypad. Another alternative will enter guest mode when swiping left or right on the lock screen. Of course, users can also assign guest mode to an Activator gesture.
Settings -> GuestMode has many options, which restrict specific actions and protect data from the guest user. Not only can specific apps be enabled or disabled, privileges that can be toggled include Notification Center, Control Center, the App Switcher, Spotlight, Camera, Siri and so on. While the GuestMode tweak isn't as robust as having completely separate user accounts in iOS, it provides a modicum of control before handing over the iPhone to an acquaintance or young child.
GuestMode is available on Cydia from the BigBoss repository for $0.99. Check here for instructions on how to jailbreak iOS 7.x with evasi0n 7. You can also find out how to purchase and install Cydia tweaks with this guide.