Submitted by Bob Bhatnagar on
As any iPhone owner knows, there are no speed dial functions in iOS 7. Maybe Siri or the Favorites list of contacts counts as a shortcut, however these don't resemble traditional speed dial. PassDial is a new way to tackle the issue, by adding speed dial functionality directly to the passcode lock keypad.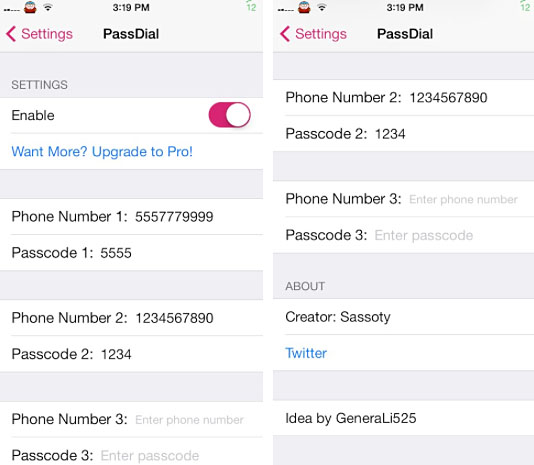 The free version of PassDial makes it possible to associate three separate passcodes with three phone numbers. It's that simple, just enter the right passcode and the iPhone will immediately start dialing the associated phone number. PassDial Pro provides more slots to add even more speed dial codes to the passcode lock keypad, and can associate codes with email addresses to initiate FaceTime calls.
Using the passcode lock keypad means not having to unlock the device and navigate to the Phone app, or initiate an awkward interaction with Siri. If the passcode to unlock your device is a Simple Passcode with four digits, then the speed dial codes must also be four digits. Complex passcode users can make their speed dial codes longer if desired.
Once the call is ended PassDial exits back to the lock screen and secures the device. Those who are worried about security might want to skip the PassDial tweak, but then again if security is important your iPhone is probably not jailbroken to begin with. Note that PassDial is not compatible with the jailbreak tweak TimePasscode.
PassDial is available free on Cydia from the BigBoss repository. PassDial Pro adds more features and costs $2.00. Check here for
instructions on how to jailbreak iOS 7.x with evasi0n 7
. You can also find out
how to purchase and install Cydia tweaks with this guide
.