Submitted by Bob Bhatnagar on
Fans of the Chrome web browser can avoid Safari on the iPhone with a simple jailbreak tweak named Open in Chrome. Once installed, a toggle in Settings will enable or disable the tweak. Using Open in Chrome results in Google's browser acting as the default across iOS 7.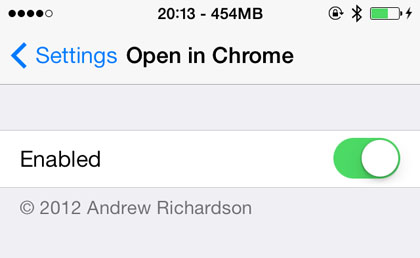 This means links in notes, messages, email and other apps will always open in Chrome. Even links from Siri or home screen Bookmarks will use Chrome to display web pages. Of course, Chrome is required for the tweak to work properly. Without Chrome installed, the tweak does nothing and Safari opens like normal.
To make a browser other than Chrome the default, tweaks such as Browser Changer can do the trick. Browser Changer includes a list of over 25 supported third-party browsers.
Other apps can replace stock iOS versions, such as Google Maps opening by default instead of Apple Maps. The tweak MapsOpener was designed to do this, however it has not been updated for iOS 7 compatibility.
Open in Chrome can be found on Cydia in the ModMyi repo for free. Look here for
instructions on how to jailbreak iOS 7.x with evasi0n 7
. You can also find out
how to purchase and install Cydia tweaks with this guide
.