Apple (NASDAQ: AAPL) stock took a slight dip Thursday morning following news that the tech giant had been downgraded by investment firm Barclays from "Overweight" to "Equalweight." This basically means stop buying, because there isn't enough room left to expect the kind of spectacular growth that Apple has experienced in recent years.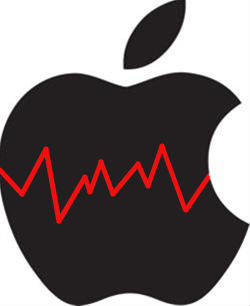 According to AppleInsider, Barclays analyst Ben Reitzes wrote in a note to investors: "Frankly, we just couldn't quite bring ourselves to use smart watches or TVs as reasons to raise numbers — nor were we fully convinced that these products could move the needle
like new categories did in the old days." He also said that, because of this, "[Barclays] believe it is time to step aside, given a maturing smart phone market."
Despite the rating downgrade, Barclays did maintain the $570 per share price target, and Reitzes, as an iPhone user himself, is still excited about Apple's future products such as mobile payments and wearable devices (i.e. iWatch). From an investor's viewpoint, however, he believes that "Apple's story is all about iPhones, and "new categories" seem to be designed to make the iPhone more useful – but don't necessarily re-accelerate growth in the iPhone category to sustainable double-digit levels."
As for the comparison to Microsoft, Reitzes acknowledged that "[Barclays looks] at a valuation analogy vs. Microsoft from 2000 to about 2010 and [sees] no precedent that large-size tech companies simply start to broadly outperform again after a tough year or two if the law of large numbers is catching up to them and margins have peaked." In case you were wondering, after a drop in stock price to about $25 a share in early 2000, Microsoft subtly fluctuated its way to about $25 per share in early 2010.