Submitted by Bob Bhatnagar on
Here's the scenario: it's a critical moment in the iOS game you've been playing for weeks. Just as you approach the end of the final level, the game stops mid-action and a pop-up tells you the battery is at 20 percent. So much for any momentum in the game, at least the iPhone battery status is clear.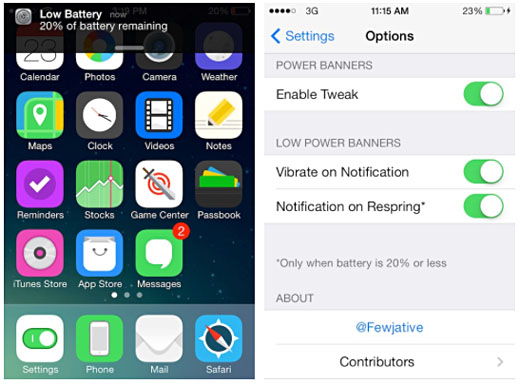 This issue can be avoided with the free tweak PowerBanners on a jailbroken iOS device. PowerBanners is a simple solution to the problem of low power app interruptions. Once installed, low power alerts at 20 and 10 percent battery life will display as a banner notification without stopping the current app.
Besides a toggle to enable or disable PowerBanners, there are two custom settings for the tweak. Once nice option is to have a notification banner displayed after a respring, when the battery is at 20 percent or below. This serves as a reminder that charging will be needed soon. In addition, there's an option to vibrate when PowerBanner displays a low power notification.
PowerBanners is available from Cydia on BigBoss repo for free. Check here for instructions on how to jailbreak iOS 7.x with evasi0n 7. You can also find out how to purchase and install Cydia tweaks with this guide.