Submitted by Bob Bhatnagar on
The iPhone lock screen does a decent job of providing music controls and information when tracks are actively playing. For those looking to spruce things up a bit, the jailbreak tweak Spin brings a whole new look to the music lock screen. Album art is centered in a circle that spins when a track is skipped, with a circular scrubber that shows current position.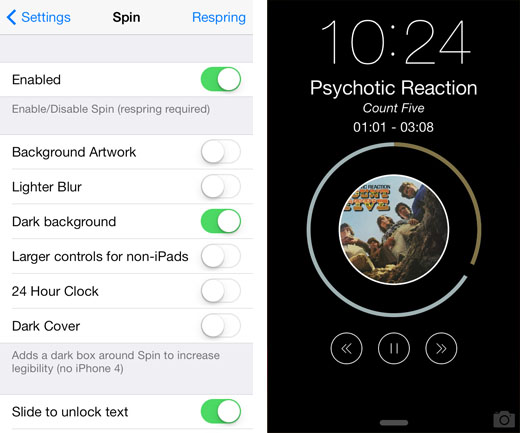 The design looks interesting, and provides a variety of options to customize the look and behavior of the music lock screen. The latest version of Spin (0.1-4) incorporates several improvements and bug fixes. The screenshot above illustrates one possible configuration, with a solid dark background. Pause and skip controls have a distinctly iOS 7 inspired style.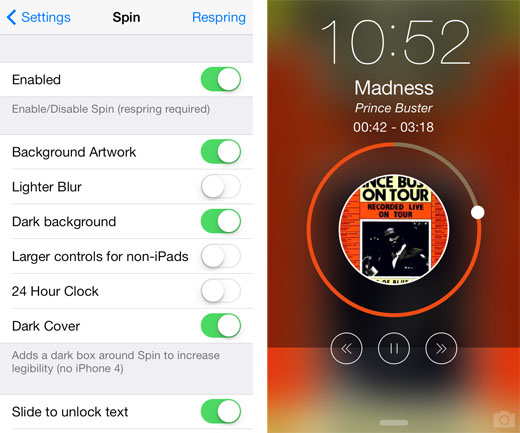 With a few more toggles enabled, album art can be blurred in the background. Album art, particularly lighter album covers, can obscure the white text indicating track title and time. This is solved by using the Dark Cover option, which provides a grey box to improve contrast on the text and controls. If album art is missing, the tweak displays a generic S inside a circle. Spin looks great with many music apps including the stock Music app, Pandora, etc.
The 24 Hour Clock and Slide to unlock text toggles will tweak these features on the lock screen, which are not directly related to the music player. Spin is off to a good start, although it is a work in progress. Holding down the skip buttons will scrub forward or backward, however holding and dragging the circular scrub bar around the album art doesn't always work correctly in this iteration.
Users of other lock screen tweaks such as Forecast or Subtlelock will need to read the instructions on Cydia to ensure compatibility with specific Spin settings.
Spin is available from Cydia on BigBoss repo for $0.99. Check here for instructions on how to jailbreak iOS 7.x with evasi0n 7. You can also find out how to purchase and install Cydia tweaks with this guide.