Submitted by Bob Bhatnagar on
Recently opened apps can pile up in the iOS App Switcher. Manually removing app cards from the App Switcher can be a time consuming process. What if there was a way to prevent apps from sticking around? WhitelistSwitcher is a jailbreak tweak that seeks to reduce clutter in the App Switcher automatically.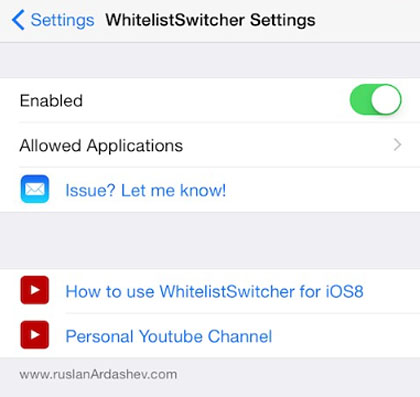 Once installed, the tweak can be configured under Settings -> WhitelistSwitcher -> Allowed Applications. Specific apps can be selected to appear on the whitelist, which means only they will be allowed to stick around in the App Switcher. Any apps not whitelisted will not display cards when the App Switcher is invoked with a double press of the home button. This keeps only the desired number of apps accessible after they are recently used.
Of course, to return to default behavior WhitelistSwitcher has a toggle to disable the tweak entirely. Otherwise if the tweak is installed with no applications allowed the App Switcher will be completely empty. Jailbreakers might also consider additions to the App Switcher that will kill app apps at once. One example is the tweak Slide2Kill8 Pro.
WhitelistSwitcher is available from the BigBoss repository on Cydia for $0.99. To start customizing iOS, click here for instructions on how to jailbreak iOS 8.0-8.1.2 with TaiG. Those with older firmware can check here for details on jailbreaking iOS 7.0 with evasi0n 7. Pangu will jailbreak devices running iOS 7.1. Find out how to purchase and install Cydia tweaks with this guide.
For more tweaks and jailbreak news follow us on
Twitter
and
Facebook
.