Submitted by Bob Bhatnagar on
One area of iOS that begs for customization is the app switcher. Ever since multitasking came to the iPhone, jailbreak developers have devised ways to easily quit all apps. The alternative is manually swiping to quit each app card individually. Clear Background Apps is just one example of such a tweak.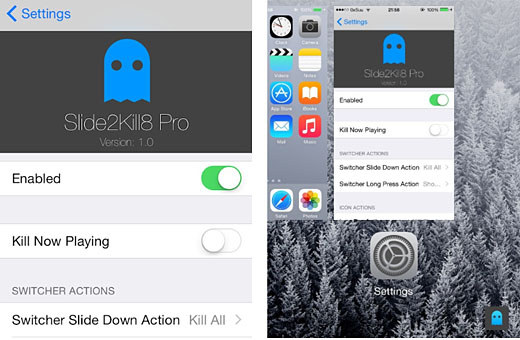 Now iOS 8 users can grab Slide2Kill8 Pro for a bevy of app management features. Once installed, Slide2Kill8 adds a ghost button to the lower right of the app switcher. Tapping this button provides three options, kill all apps, open the Control Center, or open the Notification Center.
That's not all. There are many settings that can be configured to make killing running apps behave as desired. Apps actively playing music can be exempted from the action, and a swipe down or up on an app card can be made to quit all apps. There are also gestures that can be used to invoke actions when performed on the app switcher icons as well.
A free, lite version of Slide2Kill8 is also available. Slide2Kill8 Lite is much simpler, allowing a swipe down on any app switcher card to kill all apps. Once the lite version is installed it must be enabled under Settings before use.
Slide2Kill8 Pro is available from the BigBoss repository on Cydia for $0.99. To start customizing iOS,
click here for instructions on how to jailbreak iOS 8.1 with Pangu
. Those with older firmware can check
here for details on jailbreaking iOS 7.0 with evasi0n 7
. The
previous release of Pangu will jailbreak devices running iOS 7.1
. Find out
how to purchase and install Cydia tweaks with this guide
.
For more tweaks and jailbreak news follow us on Twitter and Facebook.