Submitted by Bob Bhatnagar on
While iOS 8 allows apps to "run" in the background, many of these tasks are optimized to save battery life and improve performance. Those looking for true multitasking capabilities may be interested in Watchdog Pro. This tweak gives iOS apps the ability to fully run in the background, just as if they were still running in the foreground.
App backgrounding can be activated right from the native iOS 8 app switcher. Any apps actively running in the background will be denoted with a green dot on the home screen. Watchdog can be useful for downloading large files, playing videos in the background (to hear audio while doing something else), switching between apps without having to reload anything, and more.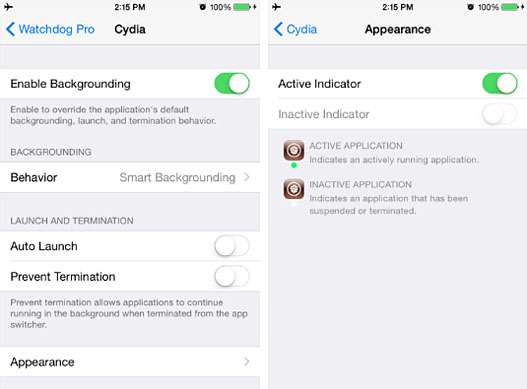 There is a trial version that runs up to two apps in the background. Watchdog Pro includes enhanced options such as:
- More than two apps running
- Smart background
- Prevent suspension
- Keep in foreground
- Auto launch
- Prevent termination
- Full Activator support
Watchdog Lite is free and the full version Watchdog Pro costs $2.99. To start customizing iOS,
click here for instructions on how to jailbreak iOS 8.4 with TaiG
, or learn
how to jailbreak iOS 8.4 on Mac
.
Find out how to purchase and install Cydia tweaks with this guide.
Don't forget to follow the iPhoneFAQ Twitter feed and stay tuned to Facebook for the latest jailbreak tweaks and news.