Submitted by Bob Bhatnagar on
TaiG team has finally released a Mac version of their popular iOS 8.1.3-8.4 jailbreak tool. Now OS X users can install Cydia in a few simple steps to enjoy Apple Music and f.lux. The latest version fixes bugs that were found to affect OS X 10.9. Anyone who has been waiting for the dust to settle around the iOS 8.4 jailbreak can go forward at this time. TaiG 2 for Mac is stable and ready for action.
Following the steps carefully when it comes to preparation will ensure the jailbreak is performed smoothly. As always, do not touch a device that is in the middle of the jailbreak process! For anyone interested in unjailbreaking to stock iOS 8.4, the tool Cydia Impactor returns iOS 8.4 to stock configuration without having to restore.
Windows users can click here to jailbreak iOS 8.4 with TaiG 2 for Windows.
Here are complete instructions for jailbreaking iOS 8.4 with TaiG 2 on Mac:
1. Backup your iOS device with iTunes or iCloud.
2. Make sure your iOS device is updated to iOS 8.4. See the current firmware version under Settings -> General -> About -> Version.
NOTE: If you are already jailbroken with an earlier version of iOS, it is recommended to update using iTunes on a computer.
3.If iTunes is open, quit the program. Developers will need to quit Xcode.
4.Now you are ready to download TaiG 2 for OS X. Click Download TaiG Jailbreak Tool for Mac in the middle of the TaiG home page to get the latest version.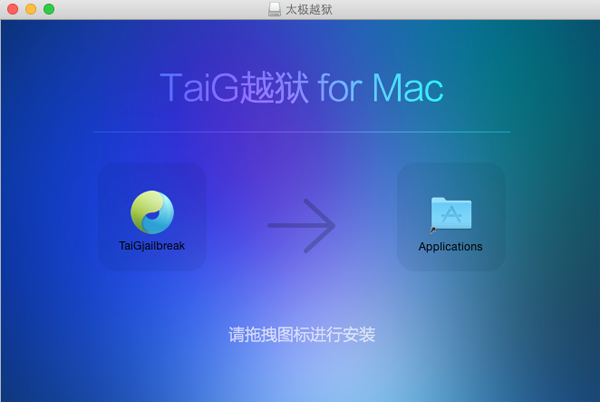 5.Double-click the file to mount. Drag the TaiGjailbreak icon to the Applications folder.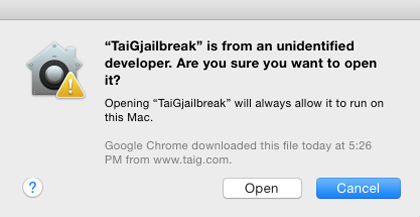 6.Open the Applications folder and ctrl-click (right-click) the TaiG icon. Select Open from the drop down menu. When prompted by a dialog box, click Open.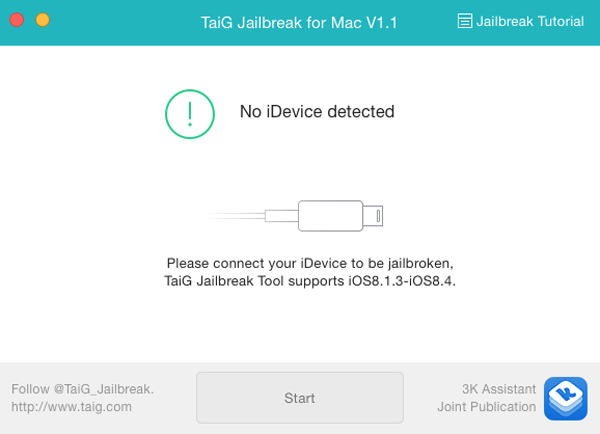 7. On the iOS device, turn OFF Passcode Lock and Find My iPhone, and turn ON Airplane Mode:
- Navigate to Settings -> Passcode -> Turn Passcode Off. You will have to enter your passcode twice.
- Settings -> iCloud -> Find My iPhone -> Find My iPhone -> OFF (grey slider).
- Settings -> Airplane Mode -> ON (green slider)
8. Connect your iOS device to the computer via USB cable. Unlock the device and tap Trust if the dialog appears.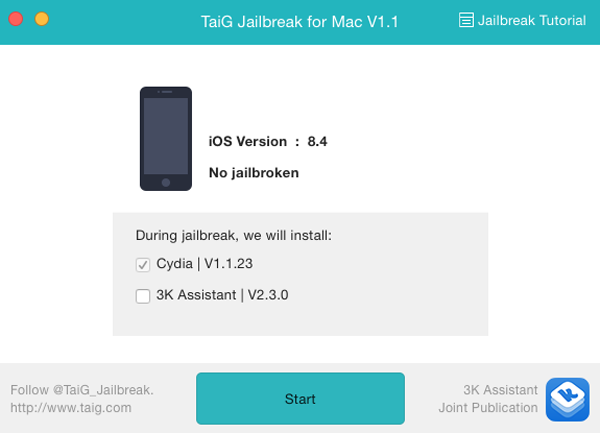 9. TaiG will detect your iOS device. Make sure the 3K assistant box is unchecked and click Start.
10. When complete, turn OFF Airplane Mode then tap the Cydia icon to launch the jailbreak app store. Cydia will configure the filesystem.
11. Reopen Cydia when complete, and tap Changes -> Upgrade to install available updates.
12. Passcode Lock and Find My iPhone can now be switched ON.
The iOS 8.4 device is now jailbroken! Find out how to purchase and install Cydia tweaks with this guide.
Don't forget to follow the iPhoneFAQ Twitter feed and stay tuned to Facebook for the latest jailbreak tweaks and news.