comScore Inc., a leading digital measurements and analytics firm, today released its MobilLens and Mobile Metrix data for the last quarter of 2013, ending January. The data show top smartphone manufacturers, top mobile platforms, top apps and top properties.
According to comScore's data, smartphone owner ship increased by 7% during the last quarter, up to 159.8 million people. Smartphones accounted for 66.8% of all phones. Apple once again led the pack as the top smartphone OEM (original equipment manufacturer) with 41.6% of all subscribers, up 1% since October. Top Apple rival, Samsung, was second with 26.7%, and LG, Motorola and HTC were distant followers with 6.9%, 6.4% and 5.4% respectively.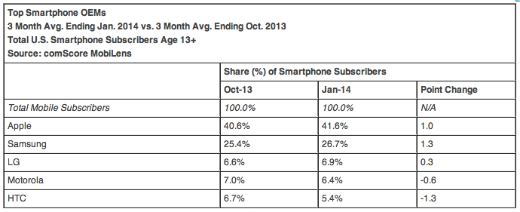 Google's Android ranked as the top smartphone platform with 51.7% market share, which was .5% lower than in October. Apple came in second with 41.6%, again a 1% increase. Microsoft, Blackberry and Symbian filled in the rest with 3.2%, 3.1% and
.2% respectively.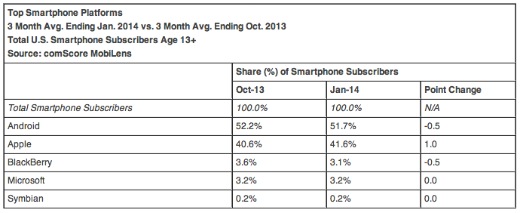 Google sites ranked as the top "web property," reaching 89.4% of the mobile media audience, which includes web browsing and app usage. The top app, by far, was Facebook, which reached 77.6% of the mobile app audience.
You can see the full report at comScore.