Submitted by Anders Batten on
As expected, Apple has launched a more affordable 8GB model of the iPhone 5c in select markets. The company has also discontinued the iPad 2 and has replaced it with the fourth-generation iPad with Retina display.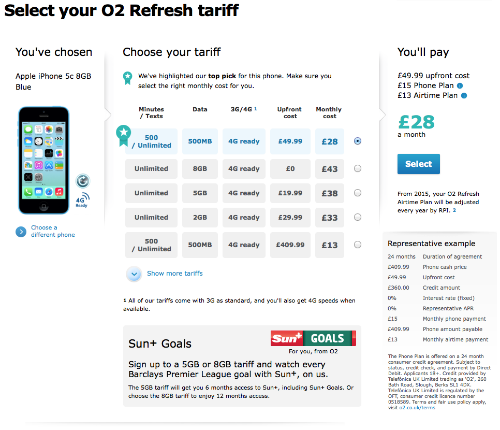 The 8GB iPhone 5c is only available in the United Kingdom, France, Germany, Australia and China. The new handset is currently listed on the UK carrier O2′s website for £50 on-contract (around $80 USD) and £429 off-contract. As a comparison, a 16GB iPhone 5c in the US will cost you $99 with a two-year carrier agreement and $549 off-contract.
The 8GB version features the same specs as the original iPhone 5c models launched in October.
It has been widely speculated that the iPhone 5c has not been meeting Apple's internal sales goals, and that the plastic handset will be discontinued later this year. Apple reported that it sold a record 51 million iPhones after last year's launch of the iPhone 5s and iPhone 5c, but it has been rumored that most of those sales were unsold units of the iPhone 5c that have been cluttering up shelves at third-party retailers. This is also purportedly why so many retailers like Walmart have been offering the device at such low prices.
Walmart is currently offering the plastic handset
for only $29 with a two-year contract
, and the
16GB model is currently only $50
at Best Buy.