Submitted by Marshall Walker on
Apple has launched the 8GB iPhone 5c in 14 new markets including Italy, Sweden, Belgium, Poland and the Czech Republic. The unapologetically plastic phone was first spotted at a carrier retail location in the Netherlands before landing on Apple's online store for €549.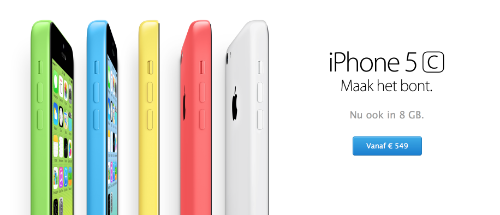 The 8GB iPhone 5c is around €50 cheaper than the 16GB model in most regions. The new model has also been spotted in Switzerland, Austria, Ireland and Portugal at around the the same price differentiation as the Netherlands.
Apple launched the 8GB version of the iPhone 5c in the United Kingdom, France, Germany, Australia and China in March. The new model sells in the UK for £50 on-contract (around $80 USD) and £429 off-contract. A 16GB iPhone 5c in the US retails for $99 on-contract and $549 off-contract, as a comparison.
The 8GB iPhone 5c features the same specs as the 16GB model.
In March, Apple also discontinued the iPad 2 and replaced it with the fourth-generation model in its iPad lineup.