Submitted by Fred Straker on
When it comes to security concerns, the Heartbleed security flaw is currently dominating headlines everywhere. The good news is that iOS devices are not vulnerable to Heartbleed. Regardless of this fact, setting a passcode is the first step in securing personal information on the iPhone from prying eyes.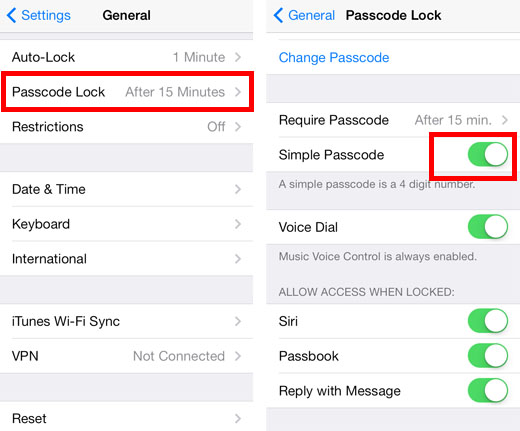 Simple passcodes are convenient to use, but limited to a four-digit number. For those looking to beef up the security of their iOS devices, replacing these four digits with a complex passcode will help. Once activated, this feature allows numbers, letters and special characters to be used, vastly improving the strength of the passcode. A long string or several words strung together can be used, locking down an iOS device at the specified time interval.
To improve the iOS passcode, navigate to Settings -> General -> Passcode Lock. Turn off the Simple Passcode toggle (green slider) and iOS will prompt for your old (simple) passcode.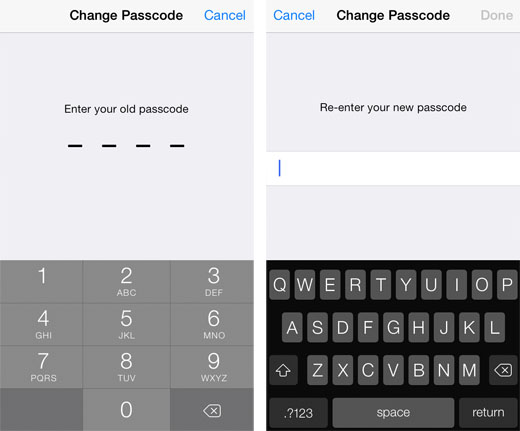 Enter the old passcode, then enter the new, complex passcode twice. Tap Done and the iPhone will now be locked with the new, improved passcode.
To further improve security with the iOS passcode, shorten the time interval under Settings -> General -> Passcode Lock -> Require Passcode. Shorter times are more secure, meaning iOS will prompt for the passcode more frequently. Ultimately, requiring a complex passcode immediately provides maximum security, but this can also involve more inconvenient typing to unlock.
Those with Touch ID enabled devices will find relevant options under Settings -> General -> Passcode & Fingerprint. Setting up a fingerprint for the Touch ID sensor can skip the inconvenience of complex passcode entry for the most part. Note that iPhone 5s users are still prompted for a passcode under specific circumstances.