Submitted by Sammy Snyder on
Fans of Realore's popular Roads of Rome will want to check out Ladia Group's new time management game Next Stop for iOS devices. In the game players are tasked with rebuilding a dilapidated railroad to save it from being taken over by an evil banker.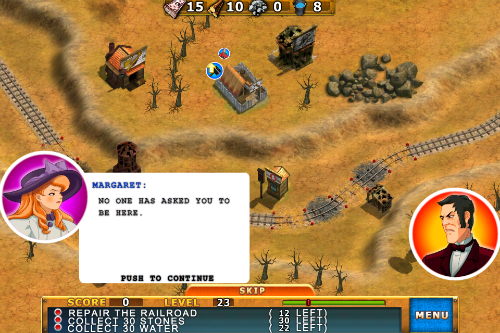 For those of you who have never played a time management game the premise is quite simple. Players must collect resources and complete objectives before a timer runs out. For example, in Next Stop you must collect wood, money and sometimes stone to rebuild parts of a broken train track. Unlike resource management games where you do a lot of waiting around, time management games are normally face-paced and require a lot of thinking ahead to complete each level. If you're slow on the draw or make too many mistakes you will run out of time and not advance to the next level.
The only complaint I have about Next Stop is that it is not that challenging, but it is still a well done time management title that fans of the genre will absolutely enjoy. The $5.99 price for the HD version seems a little high, but only because time management games don't offer much replay value. However, paying $6 for several hours of fun is still better than suffering through any IAP heavy freemium game with timers.
Next Stop HD features 40 levels, decent graphics and the controls work great even on the smaller iPhone 4s. The full HD iPad version of the game is available on the Apple App Store for $6, or you can download the "Lite" iPad or iPhone versions for free.
The game requires iOS 4.3 or later.