Submitted by Fred Straker on
Practically everyone with an iPhone or iPad knows how to set an alarm to get themselves out of bed in the morning. But how many of these iOS users know that a music sleep timer is also available? Setting the iPhone to automatically stop playing music after a set time interval can help one fall asleep without draining the battery into the night.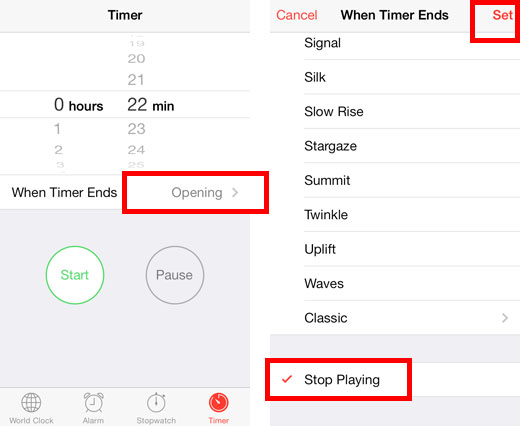 While the music sleep timer works with the built-in Music app and some others such as Pandora, the feature is hidden in the Clock. To set up your music to fade out quickly and stop playing when the timer ends, first open the Clock app and navigate to Timer.
Next tap When Timer Ends to change the alarm ringtone. Instead of choosing an alarm, swipe up to scroll all the way to the bottom. The last choice on the list is Stop Playing. Select Stop Playing and tap the Set button in the upper right corner.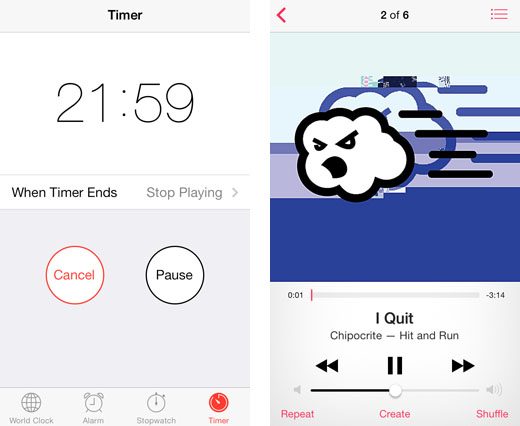 Next set the timer interval like normal and hit start. While the timer is counting down the minutes, switch over to the Music app and start playing the desired album or playlist. Lock the iPhone to turn off the screen and enjoy the tunes.
When the timer ends, iOS will automatically stop playing the music, fading it out quickly.
While Music and Pandora work with the Stop Playing feature, make sure to test other audio apps before trying to use the sleep timer on them. Some apps, such as TuneIn Radio (6.1) will not stop playing when the timer ends.