Submitted by Bob Bhatnagar on
The jailbreak community has responded to the latest security research by Andreas Kurtz, who claims to have found a mail attachment encryption bug in iOS 7.0.4 and later. The problem arises when mail attachments are stored locally in an iOS mail folder. These files are not encrypted, making them accessible through the file system.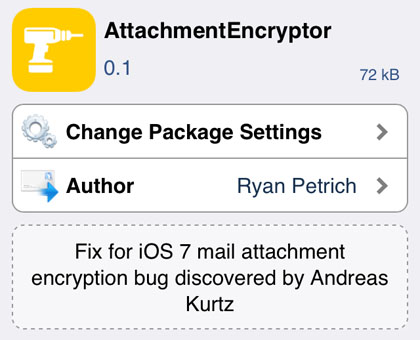 Of course, for this bug to threaten important data the iOS user must be receiving and storing critical information in mail attachments in an IMAP folder on the device. Furthermore, it sounds like the only way to access the unencrypted files is via access to the iOS device itself. In any case Apple has been notified of the problem by Kurtz and is currently working on a fix.
In the meantime developer Ryan Petrich has gone ahead and released the jailbreak tweak AttachmentEncryptor for those looking to patch the issue. Since evasi0n 7 will jailbreak devices running iOS 7 through iOS 7.0.6, some jailbreakers could be affected by the mail attachment encryption bug. Once installed, the free tweak patches the issue with no settings or options to configure.
AttachmentEncryptor is available from Cydia on Ryan Petrich's repository (http://rpetri.ch/repo). Click here for instructions on how to add a new repo to Cydia sources.
Check here for
instructions on how to jailbreak iOS 7.x with evasi0n 7
. You can also find out
how to purchase and install Cydia tweaks with this guide
.