Submitted by Anders Batten on
Uber Entertainment and Tilting Point's Toy Rush is now available on the App Store. Toy Rush is not only a tower defense game, but it has a building management element and it features a collectible card twist. The goal of the game is to build an army of toys to attack other players and defend your home. Players gain more toys by attacking enemies and earning tickets or caps (premium cash) to spend on card packs. Each card pack includes random toy soldiers for your army, defense towers and decorative items to spruce up your home base.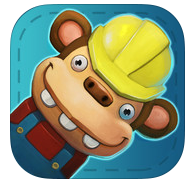 Like any free-to-play building game Toy Rush does feature timers, but they do not bog down the game since there is so much to do. Actually, there are so many elements to the game that it can be kind of overwhelming at times. But don't worry, the game is really easy to get the hang of and is a lot of fun to play. The in-game currency is also easy to earn making the game playable without spending real money on in-app purchases.
The built-in tutorial walks you through every aspect of the game from upgrading your toys, to how to best utilize them in battle. You will quickly learn what each individual tower does and how to use your toys in tandem to defeat your enemies. For example, Bowlerpuffs make good canon fodder for your stronger beast toys like the Savage Toad, and they are a great way to take out Bottle-Rockets who destroy flying toys like the Unicopter. You can easily learn about each individual toy by pulling down on its info card while you're playing. This comes in handy because you are constantly buying new card packs and unlocking new toys.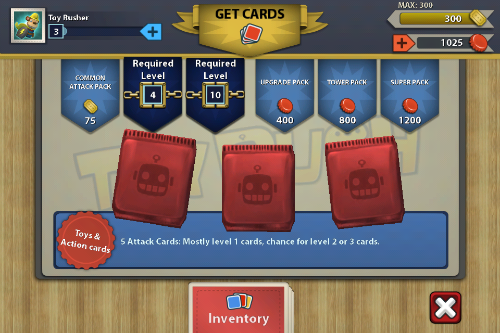 You earn tickets every time you attack and defeat an opponent. These tickets can be stored in your Piggy Bank or used to purchase more card packs. Like any collectible card game there are different types of card packs (Attack Pack, Upgrade Packs, Tower Packs and Super Packs) and rare and common cards. Some cards require that you reach a certain level before you can use them, which can be annoying, but it will also motivate you to defeat more enemies so you can earn more experience points. You can also use cards to feed the monsters who guard your base to boost their health, attack and special abilities.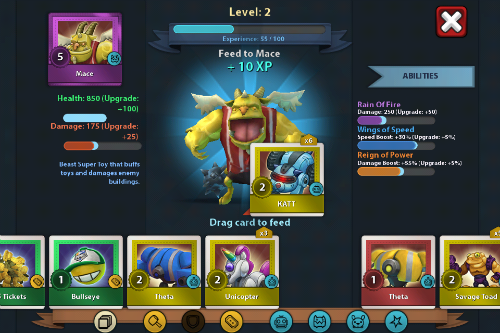 While the focus of the game is to attack other player's and build your army, you will also need to protect your own base, Piggy Bank and Ticket Bot from your enemies. The game allows you to design your own pathways while surrounding them with towers, traps and monsters. You can unlock new towers and decorative items to spruce up your base by buying Tower Packs from the card store. This is where the timers come into play, but you don't have to stand around with your finger up your nose while waiting for a tower to be built or upgraded. You can always tweak your base, attack another player or upgrade your toys while you wait. This is what sets
Toy Rush
apart from other boring freemium games on the App Store.
Toy Rush has the potential to be even better than Clash of Clans. It features just the right mix of elements to make it a fun tower defense / building game. Uber Entertainment really outdid themselves with this one.
The game is available now for free on the Apple App Store. It is compatible with all devices running iOS 7.0 or later. The game is probably more suited for the iPad, but it is also enjoyable on the smaller iPhone 4s.