Submitted by Anders Batten on
Uber Entertainment and Tilting Point's Toy Rush is now available on the App Store. Toy Rush is not only a tower defense game, but it has a building management element and it features a collectible card twist. The goal of the game is to build an army of toys to attack other players and defend your home. Players gain more toys by attacking enemies and earning tickets or caps (premium cash) to spend on card packs. Each card pack includes random toy soldiers for your army, defense towers and decorative items to spruce up your home base.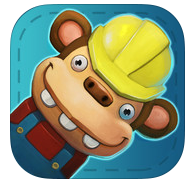 Like any free-to-play building game Toy Rush does feature timers, but they do not bog down the game since there is so much to do. Actually, there are so many elements to the game that it can be kind of overwhelming at times. But don't worry, the game is really easy to get the hang of and is a lot of fun to play. The in-game currency is also easy to earn making the game playable without spending real money on in-app purchases.