Submitted by Marshall Walker on
Only released a few days ago, Mika Mobile's follow-up to the popular Battleheart RPG for iOS devices is already receiving positive reviews from both fans and critics. Battleheart Legacy is a 3D retweak of its predecessor that adds a lot more depth to the original concept. The game now allows players to use experience points to build multifaceted characters by learning a variety of skills instead of just following one skill tree. The game also features multiple dialog options which gives it a choose your own adventure feel and allows for players to discover more quests or items depending on their choices.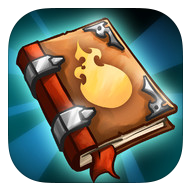 Battleheart Legacy is also being praised for its new 3D graphics that stay true to the cartoonish look of the original game, its fast load times and redesigned battle system. The game has been called one of the best games of the year by Touch Arcade, and it has been compared to both The Legend of Zelda and Skyrim. Other improvements include better iCloud support, over 150 unique skills to learn, 12 classes of heroes, over 200 unique pieces of equipment and Game Center support.
Battleheart Legacy is available on the Apple App Store for only $4.99. It is compatible for all devices running iOS 5.0 or later, and it is highly recommended for fans of RPG games like Final Fantasy.