Submitted by Bob Bhatnagar on
The list of options for custom ways to unlock the iPhone keeps growing thanks to the efforts of jailbreak developers. The tweak Genie provides an easy way to configure a gesture besides the standard slide to unlock movement to exit the lock screen. What makes Genie interesting is some of the toggles under Settings -> Genie.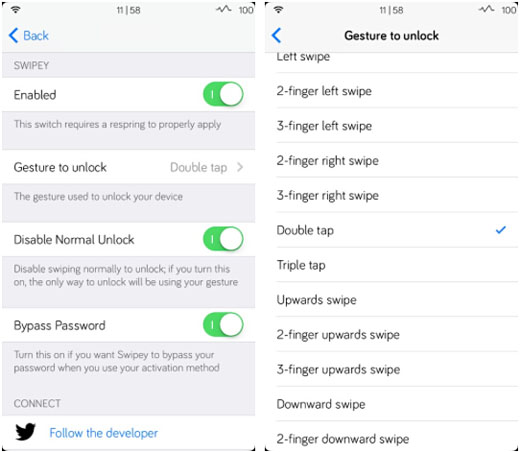 In addition to choosing the custom unlock gesture from a list of 13 gestures, the default slide to unlock can be turned off entirely. This makes the secret gesture the only way to unlock the device. For those who are interested in going another route, the default unlock gesture can be kept active, but with a twist.
Bypass Password will toggle another feature of Genie that can speed up access to your iOS device. When slide to unlock is used, the passcode keypad will be presented as usual. With Bypass Password, the special secret gesture configured with Genie will skip the passcode, unlocking immediately for anyone who knows which gesture is selected. Of course, the entire tweak can be disabled with a kill switch to resume with standard iOS security.
Here is the list of gestures to choose from:
Left swipe
2-finger left swipe
3-finger left swipe
2-finger right swipe
3-finger right swipe
Double tap
Triple tap
Upwards swipe
2-finger upwards swipe
3-finger upwards swipe
Downward swipe
2-finger downward swipe
3-finger downward swipe
Genie is available from Cydia on the BigBoss repository for $0.99. Check here for
instructions on how to jailbreak iOS 7.x with evasi0n 7
. You can also find out
how to purchase and install Cydia tweaks with this guide
.