Submitted by Bob Bhatnagar on
Music fans who fall asleep listening to tunes may already know how to set a sleep timer in iOS. While the process is relatively straightforward, it takes a few steps to enable. Now jailbreakers can quickly set a sleep timer using a simple gesture, thanks to Activator and the Cydia tweak Lullaby.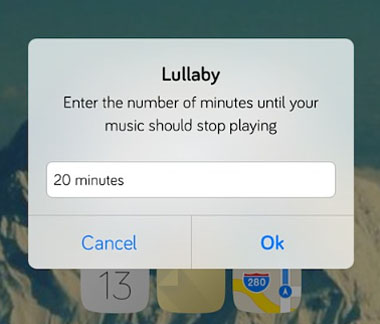 Once installed, Lullaby can be assigned to a custom gesture in Activator. Once configured, when music is playing in the stock Music app the sleep timer can be enabled. Performing the gesture assigned to Lullaby will immediately provide a pop-up dialog box asking for the number of minutes to keep playing. Once the specified number of minutes elapses, the music stops automatically.
One limitation of Lullaby is that it will only stop music playing in the stock Music app. Other apps such as Pandora or Spotify are not supported. For those with jailbroken devices who use the music timer often, Lullaby could simplify the process of starting the countdown to silence.
Lullaby is available on Cydia from the BigBoss repo for $0.99. Jailbreak iOS 7.1.x with Pangu to start customizing iOS. Check here for instructions on how to jailbreak iOS 7.0.x with evasi0n 7. You can also find out how to purchase and install Cydia tweaks with this guide.