Submitted by Bob Bhatnagar on
Some jailbreak tweaks are simple. Others are comprehensive in their scope, and fundamentally change stock iOS apps for the better. Canopy for iOS 7 is in the latter category, adding a plethora of new features to Safari. With many of these additions to the default Safari app, the user may wonder why Apple hasn't already included them in the stock app.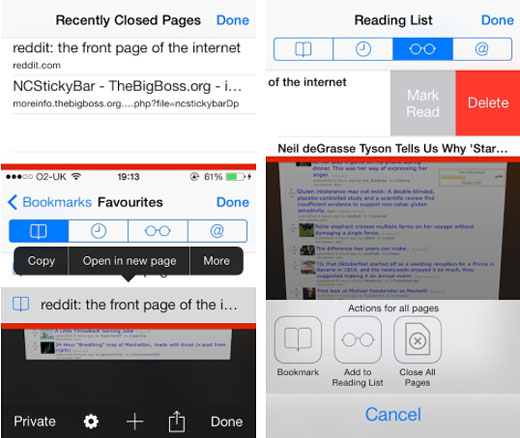 When it comes to Canopy, the iOS software team is surely looking at the work of developer Jonathan Bailey. It would not be surprising if some features from Canopy arrive in a future version of Mobile Safari. In the meantime, jailbreakers can install Canopy for iOS 7 and enjoy a more powerful version of Safari on their mobile devices.
No other Safari tweaks include so many functions in one package. With Canopy, a URL can be pasted and opened in one step with Paste & Go, Recently closed pages can be easily accessed, and Settings are just one touch away. But these features are only the tip of the iceberg when it comes to the power of Canopy.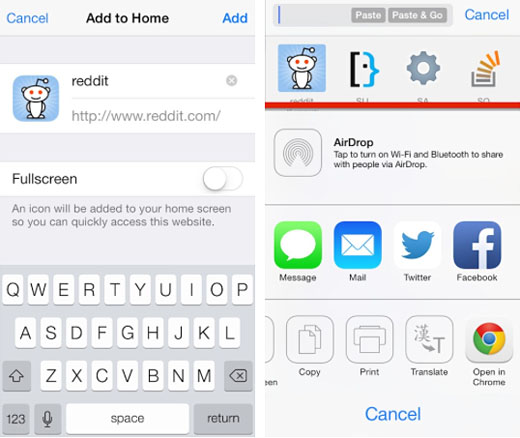 Here is a complete list of Canopy for iOS 7 features:
- Recently Closed Pages (the native implementation from the iPad, so it knows not to remember in Private mode, remembers the page's back/forward history)
- Option to prevent the navigation bar from hiding when scrolling
- Long press on Bookmarks, History items and Reading List items to:
- Copy the address
- Add them directly to Reading List or Bookmarks
- Share them on Facebook, Twitter, Email, iMessage/SMS
- Paste and Paste & Go inline in the address/search bar
- Translate any page from the action/share menu
- Open in Chrome added to the action/share menu
- Add all open pages to Reading List or Bookmarks folder & Close all open pages
- Open Safari settings by pressing the gear icon in the Pages View
- Open Canopy settings by long pressing the gear icon in the Page View
- Open Safari from Safari settings and Canopy Settings
- Long press on the View Pages button to open a new page
- Long press on the Bookmarks button to add current page to bookmarks or to reading list (option in settings)
- Swipe Reading List items to reveal button to Mark Read or Unread
- Insert search and address suggestion into their respective text fields without Going/Searching (like in Chrome)
- Change Home screen web clip settings (fullscreen)
Canopy for iOS 7 is available on Cydia from the BigBoss repository for $1.99. Jailbreak iOS 7.1.x with Pangu to start customizing iOS. Check here for instructions on how to jailbreak iOS 7.0.x with evasi0n 7. You can also find out how to purchase and install Cydia tweaks with this guide.