This past week Amazon launched its own subscription music service - Prime Music, which is available to anyone with an Amazon Prime membership. The library contains over a million songs, which is smaller than Pandora and Spotify's libraries, but it is ad-free. iOS users can download the Amazon Music app to download songs.
On Tuesday, iTunes radio added ESPN Radio to its station list.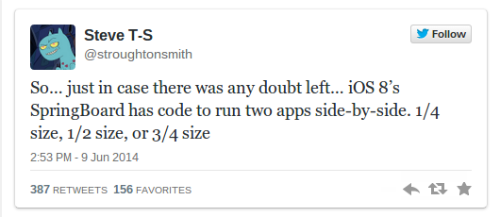 Although it wasn't demonstrated at this year's WWDC, code for split-screen multitasking on the iPad was found by developer Steven Troughton-Smith that lets apps run side by side at 1/4, 1/2 or 3/4 size. It has long been rumored that this
functionality would be included in iOS 8, but it wasn't ready to be unveiled at the conference two weeks ago.
An Apple
patent application
surfaced last week that shows a smart Smart Cover. The device depicted would relay alerts and notifications to the owner via illumination modules on the front cover.
Skype 5.0 has undergone a major update and was made available in select markets last week. The new and improved version offers a simplified, faster, and more fluid interface.
The 2014 World Cup began in Brazil last week, and there are several apps available for iOS that will ensure you don't miss any of the action: FIFA, ESPN FC, World Soccer Finals, Fox Soccer 2Go and MLS Matchday.