Submitted by Chad Shmukler on
Rumors are flying as a result of a blog post on TUAW this morning, which indicates that Apple may be planning a product release event sometime near the end of this month. Suggestions of what might be coming at the event are already buzzing about and include: the Official iPhone SDK, new MacBook Pro models which would utilize Intel's 45-nanometre Penryn chip, and the ever-rumored 3G-capable iPhone model.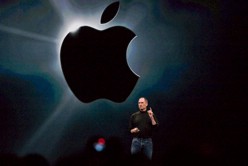 The source of the rumor is a tip to TUAW that indicates that the company that does television for Macworld and other Apple media events is reportedly hiring personnel for an event at the end of
February 2008. The actual existence of this event is, of course, unconfirmed.
Apple and Jobs, however, did go out of their way to get consumers ready for a year plentiful with new Apple products. The new year has already seen the introduction of the new MacBook Air models, the increased capacity iPhone and iPod Touch, and the wireless Time Capsule backup server. Apple's faithful would certainly be flush with joy if February saw the announcements of even more Apple goodness.
Will this latest rumor give Apple's stock (AAPL) a much needed boost? After being over $200 earlier in the year, AAPL closed yesterday near $121. AAPL is up slightly in trading today, around 3%.