Submitted by Marshall Walker on
The New York theater tickets app, TodayTix, has added a referral program for its members to earn credit towards Broadway and Off-Broadway shows. Users of the free app can now navigate to the Refer & Save section under the Settings panel to get their personalized referral code to share with family and friends. You will receive a $10 credit when anyone uses your code at checkout. The new customer using the code will also receive $10 off their current order.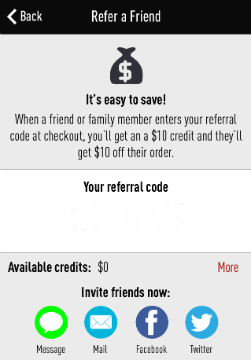 TodayTix is a free app that gives users 24-hour mobile access to last minute deals on Broadway and Off-Broadway shows. Users can book tickets less than 30 seconds or up to 7 days in advance and receive them at the door right outside the theater before the show begins.
TodayTix also allows users to set their own price point, and provides important information for NYC musicals and plays such as pictures, summaries, seating charts and interactive maps. The app is free to to download on the App Store. It supports all devices running iOS 6.0 or later.
Current users will need to upgrade to version 1.2.0 to add the Refer & Save option to their app.