Submitted by Bob Bhatnagar on
Multiple taps are the norm when opening an iOS folder to find and run specific apps. With QuickFolders, those with jailbroken devices can streamline this process, and add new folder gestures to boot. Once installed, QuickFolders provides one touch access to folders and their contents.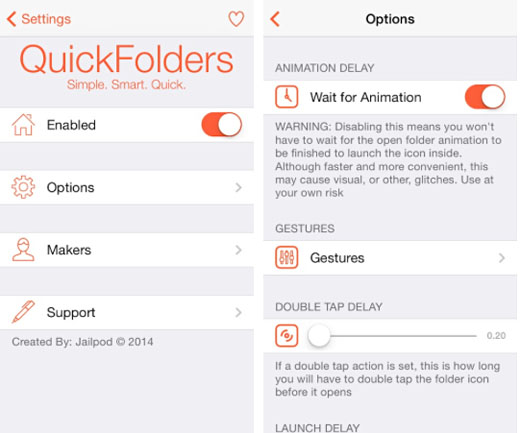 Tapping once and holding will open a folder, and releasing over the desired app icon will open the app. All in one, smooth gesture without lifting a finger for multiple taps. Not only this, but for jailbreakers using nested iOS folders, multiple levels can be accessed with the same motion, never lifting your fingertip off the display.
While this alone makes for quick app access, many other options can be configured under Settings -> QuickFolders. Functional adjustments can be made, including tap delays and launch delays, etc. The Gestures section adds more power to folders by allowing for specific gestures to perform actions.
For example, double tapping on a folder can be configured to automatically run a specific app in that folder. A swipe up on the folder can be configured to enter wiggle mode. By adding a series of folder gestures, apps icons and nested folders can be accessed even more quickly.
QuickFolders is available on Cydia from the BigBoss repo for $1.99. Jailbreaking
iOS 7.1.x is now possible with Pangu
. Check here for
instructions on how to jailbreak iOS 7.0.x with evasi0n 7
. You can also find out
how to purchase and install Cydia tweaks with this guide
.