Submitted by Bob Bhatnagar on
With the introduction of the iPhone 5s, iPhone photographers gained two new tools in the stock camera app. Burst mode for taking and organizing rapid-fire shots, and slow motion video recording. Now thanks to developer PoomSmart, iPhone 5 owners with jailbroken devices running iOS 7 can enjoy these features, too.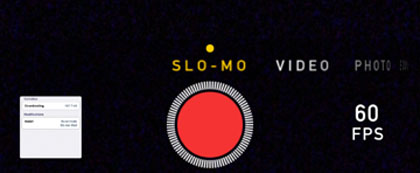 Unlocking slow motion and burst mode on the iPhone 5 requires two packages to be installed from Cydia. These are appropriately named Slo-mo Mod and Burst Mode. The developer notes that in order for Slo-mo Mod to work, the Burst Mode tweak must also be installed. Getting these iPhone 5s camera improvements is simple once the iPhone 5 is jailbroken with evasion.
1. Open Cydia and navigate to Sections -> Tweaks or use the Search function to find and select Burst Mode
2. Tap Install at the upper right corner of the screen
3. Tap Continue Queuing
4. Find and select Slo-mo Mod
5. Tap Install
6. Tap Confirm
7. Touch the respring button after both packages are installed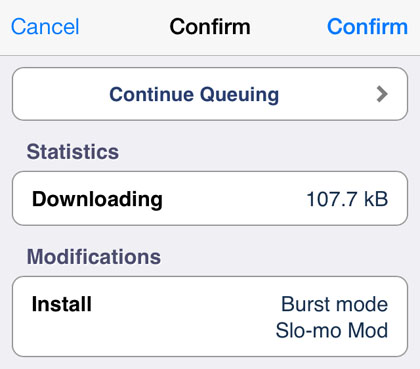 Now open the Camera app and the Slo-Mo option will be visible next to Video. Due to hardware limitations, the current version of Slo-Mo Mod tops out at 60 frames per second on the iPhone 5. This isn't as fast as 120 frames per second recording available on the iPhone 5s, but Slo-mo Mod has some tricks up its sleeve.
Settings -> Slo-mo Mod has options to further tweak how the slow motion video appears during playback. For example, the Slo-mo Rate can be adjusted. By default, playback of video recorded in slow motion will be at one quarter speed (0.25). This value can be increased or decreased to change the frame rate during playback. Audio volume during the slow part of the video can also be adjusted.
When it comes to the Burst Mode tweak, full functionality including photo grouping on the Camera Roll is activated when installed. Holding down the shutter release button will continuously capture a burst of images. Click here for a complete tutorial on how to use iOS 7 burst mode on the iPhone.
Slo-mo Mod and Burst Mode are both available on Cydia from the BigBoss repo free of charge. Look here for instructions on how to jailbreak iOS 7.x with evasi0n 7. You can also find out how to purchase and install Cydia tweaks with this guide.