How do I replace a broken home button on the iPhone?
When the home button on an iPhone breaks or isn't working properly, it can make using the iOS device incredibly inconvenient. Luckily, there are many ways to replace the functionality of the home button if repair is not an option.
iOS 7 has a built-in virtual home button that can be switched on under Settings.
Navigate to Settings -> General -> Accessibility -> AssistiveTouch.
Toggle AssistiveTouch ON and a white circle will overlay the iPhone display.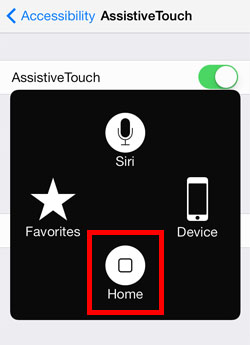 Tap the Assistive Touch circle and an icon menu will appear. At any time, the Home icon will simulate the physical home button. Tap and hold for Siri, double tap for the app switcher, and tap just once to return to the home screen.
The home button can also be recalibrated using these steps.
Jailbreakers can install vHome to add virtual home and sleep buttons to iOS 7. Virtual buttons are a simple way to restore the functions of a broken physical button.