Submitted by Bob Bhatnagar on
Access to streaming video from a variety of apps is one of the perks of using an iPhone. Unfortunately, these videos often are barraged with advertising and include restrictions on what can be viewed when. The jailbreak tweak StreamEnhancer is appropriately named, as this tweak will change the video viewing experience on iOS devices once installed.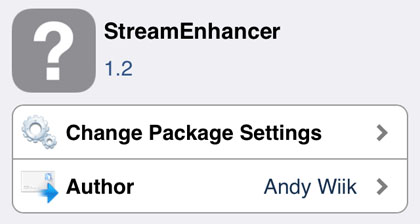 The main function of StreamEnhancer is to remove ubiquitous advertising from video streams in popular apps. Many streaming video apps are enhanced by StreamEnhancer, including YouTube, History Channel, Comedy Central, NBC, Hulu, and A&E. A complete list of the capabilities of StreamEnhancer follows, along with the apps that are compatible.
Developer Andy Wiik continues to add new features to StreamEnhancer. Here are the current functions of StreamEnhancer (version 1.2):
History and A&E: No Commercials, Enable AirPlay
YouTube:
 Blocks Ads, Ads Can't Track You. Removes Age Restrictions, Removes Featured Channel, Watermarks, Allows Likes and Comments, HD Without WiFi, Background Audio
Twitch: Watch Your Streams Right Away, No Ad Before Stream
Crunchyroll: No Ads, Premium Content, HD Streaming
MxTube: No Banner Ad the bottom
Comedy Central: Unlock all video without TV Provider, No Ads
NBC: No Commercials, No Start up Ad
Hulu Plus: No Commercials (Except those that are in the video file)
MLG.TV: No Ads
THE CW: No Banner Ads, No Ad on Video Startup
To install this free tweak, the Cydia repository http://cydia.myrepospace.com/andrewwiik/ must be added to Sources in Cydia. This repo is not listed by default. Find step-by-step instructions on how to add a repository to Cydia here.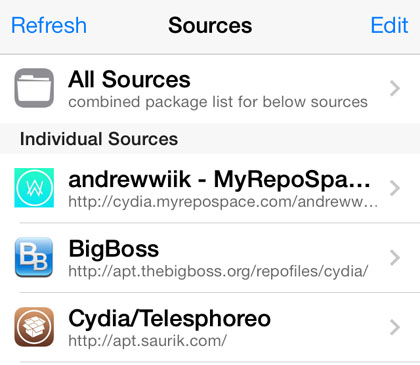 Once the repo is added, find StreamEnhancer using the Search function or by browsing the source directly in Cydia -> Sources -> andrewwiik - MyRepoSpace.
StreamEnhancer is available on Cydia from the AndrewWiik repository for free. Jailbreak iOS 7.1.x with Pangu to start customizing iOS. Check here for instructions on how to jailbreak iOS 7.0.x with evasi0n 7. You can also find out how to purchase and install Cydia tweaks with this guide.