Submitted by Marshall Walker on
Ubisoft has released another mobile spin-off from its Assassin's Creed franchise. Assassin's Creed Memories is a free-to-play, card battling RPG that takes place throughout different periods in history. Players must travel through time to places like Renaissance Italy and Colonial America to eliminate their targets and collect cards. Players can also collect weapons and equipment from the different eras to upgrade their characters.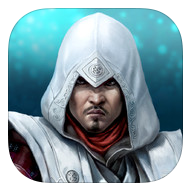 Assassin's Creed Memories features a 20 vs. 20 multiplayer guild mode, brand-new locations such as Feudal Japan and the Mongolian Empire, the ability to send out contracts and characters from the Assassin's Creed universe. The game was designed by PlayNext and Gree, which means it includes social features and in-app purchases.
Assassin's Creed Memories is available for free on the Apple App Store. It is rated 12+ and supports all devices running iOS 6.0 or later.