Submitted by Anders Batten on
Apple has added a new live page and countdown clock to apple.com. The page reads: "Live video from our special event will be right here. And so will a whole lot more. Join us at Apple.com on September 9 at 10 a.m. PDT to follow every moment."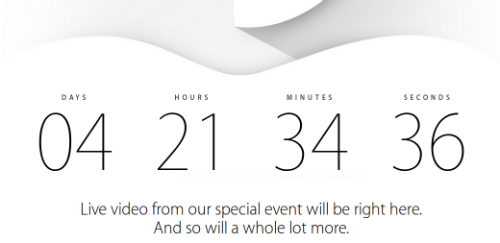 Apple sent out invites for the event on Thursday, August 28th. The keynote is being held at Flint Center for the Performing Arts in Cupertino, California, instead of the Yerba Buena Center in San Francisco where Apple normally makes its new product announcements.
Apple is expected to announce the iPhone 6 and its first wearable device dubbed the "iWatch" at the event. Recent rumors have also suggested that U2 will be making an apperance, and that Apple also plans to unveil the next-generation iPad Air on September 9th.
According to an investor note written KGI Securities analyst Ming-Chi Kuo, Apple will announce a new iPad Air model with "significant spec upgrades." Kuo says the iPad Air 2 will feature the same Touch ID fingerprint sensor found on the iPhone 5s, a new A8 processor and that the Apple tablet will be available in gold for the first time.