Submitted by Sammy Snyder on
All month long we have been taking a look at some of our favorite spooky games, from the terrifying Five Night at Freddy's to the goofy but highly recommended Skullduggery. This week instead of highlighting just one game, we're going to cover some of the noteworthy titles that have been updated with Halloween content.

Junk Jack X ($4.99) The 2D sandbox game Junk Jack X has been updated with a new Halloween biome, new monsters such as zombies, new dresses and other Halloween goodies and collectibles.
Fruit Ninja: ($0.99 / Free) As mentioned in our App Store recap last week, the popular Fruit Ninja is celebrating the 30th anniversary of Ghostbusters by decking out its crew with with Proton Packs, Ecto Goggles and other Ghostbusters equipment.
App Store Link for Pay Version
App Store Link for Free Version
Tiny Tower Vegas (Free) NimbleBit has added a Halloween lobby, elevator and floors to unlock in Tiny Tower Vegas. There's also a new a giant jack-o-lantern to place on top of your casino, new Halloween missions and your Biitizens will now leave Halloween-themed messages in your BitBook.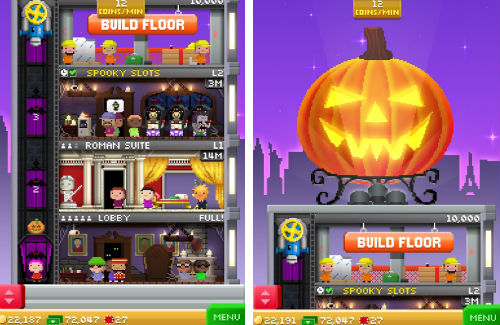 Celtic Heroes (Free) The 3D MMO is celebrating Halloween by throwing a Samhain festival. Players can participate in the "Samhain: Web of Urchaid" battle for free and purchase "new Mystery Chests filled with Samhain festival fashion, scary masks, spider-themed instruments—and the Nightflyer, an incredible new Bat Mount.
Web of Urchaid is a massive battle against the devilish schemes of the great spider Urchaid—which has vowed to create hundreds of slaves out of unsuspecting humans. Players will also come face-to-face with Urchaid itself, Grath the Ugly and its fellow spider bosses, the once-human spider lords and their vanguards of arachnid servants, wandering Samhain witches, and a variety of new content including: Brand new bosses and epic raid loot - Samhain Mystery Chest with exclusive bat mount, masks and fashion - Fiendish Quests and Dailies.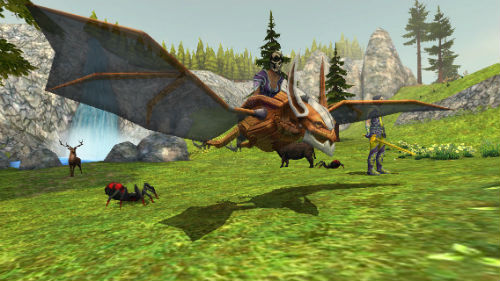 Trials Frontier (Free) The bike game from Ubisoft has been invaded by the Pumpkin King. The update includes 9 new Halloween bike skins and 4 new tracks of pumpkin smashing fun.
Despicable Me: Minion Rush (Free) The Minions from Despicable Me are celebrating Halloween with new lab decorations, a free Frankenstein costume, new spooky challenges and more.