Many people like to read their iPhones and iPads at night, in bed, with the lights out. Likely as many people find the lowest brightness setting to be borderline unbearable. And if you've ever used the jailbreak tweak f.lux, which not only adjust brightness, but color temperature as well, the standard display lighting on the iPhone is a downright reprehensible assault on the eyes.
When Apple will address this issue is anyone's guess, but in the meantime, by tapping into your Accessibility options, there is a way to make your display even dimmer than your brightness setting allows.
Here's how:
1.
Got to Settings -> General -> Accessibility -> Zoom.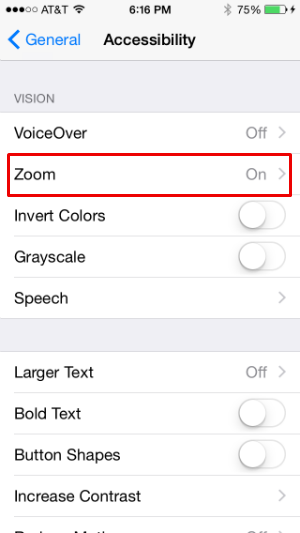 2. Turn Zoom on with the toggle.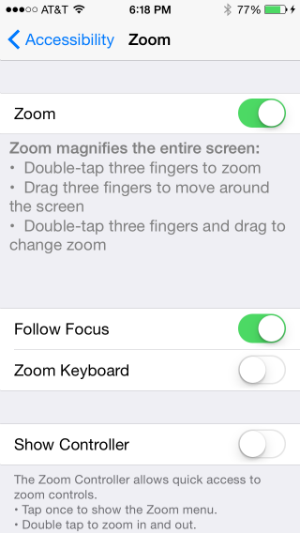 3. Tap the screen three times with three fingers. Trust me on this, a Zoom options screen will pop up (the iPhone's stock screen capture won't capture this type of menu though, so I have no picture). The options are Zoom In, Window Zoom, Choose Filter and Show Controller.
4. Select Choose Filter and some filter options come up: None, Inverted, Grayscale, Grayscale Inverted and Low Light. Choose Low Light.
This will make your screen significantly darker than the lowest brightness setting. If this is too dark, you can still use the regular brightness setting to fine tune. To disable the Low Light filter simply go back to Accessibility and turn off Zoom.