Submitted by Fred Straker on
Just a few days after its initial release in Chinese, the TaiG jailbreak tool has been translated to English. iOS fans looking to jailbreak iOS 8.0-8.1.1 will also find the official TaiG website has launched an English version. The news comes after noted jailbreak developer @MuscleNerd gave his seal of approval to TaiG team's work.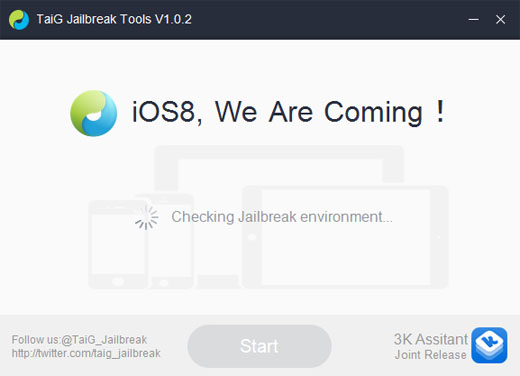 While TaiG claims to have an iOS 8.2 jailbreak ready to go, it's not clear whether Apple will patch the update and render TaiG useless. The iOS 8.2 beta has been seeded to developers, and is not expected to drop for months. Anyone interested in jailbreaking iOS 8 should strike while the iron is hot. Click here for full instructions on jailbreaking iOS 8.0-8.1.1 with TaiG. TaiG team also started an official Twitter account, @taig_jailbreak to keep fans up to date.
Since the iOS 8.1.1 jailbreak hit the community by surprise, TaiG team issued a public response to media questions (translated on reddit). In the announcement, TaiG explains that they decided to release the iOS 8.1.1 jailbreak without delay since this version of iOS is stable and will be around for several months. The team also publicly issued an invitation to Pangu team for collaboration. Pangu is the Chinese team known for jailbreaking iOS 7.1 and iOS 8.1.
Stay tuned for updates, as the world of iOS jailbreaking is never quiet. To start customizing iOS, click here for instructions on how to jailbreak iOS 8.0-8.1.1 with TaiG. Those with older firmware can check here for details on jailbreaking iOS 7.0 with evasi0n 7. Pangu will jailbreak devices running iOS 7.1. Find out how to purchase and install Cydia tweaks with this guide.
For new tweaks and the latest jailbreak news follow us on
Twitter
and
Facebook
.