Submitted by Marshall Walker on
Apple has seeded iOS 8.2 beta 3 a little over a week after releasing the second beta to developers. The third beta also arrives after Apple released iOS 8.1.2 to the public last week to fix a ringtone bug. While iOS 8.2 is mostly geared towards supporting Apple's WatchKit and soon to be released smartwatch, it will also reintroduce "support for blood glucose tracking through the iOS 8 Health app," according to 9to5Mac. The glucose tracking feature was disabled after some UK and Australian users reported issues while trying to manually enter the mmol/L (millimoles per liter) value used to measure blood glucose levels in some countries. The update also introduces descriptions of data points found in the Health app such as BAC, BMI and so on.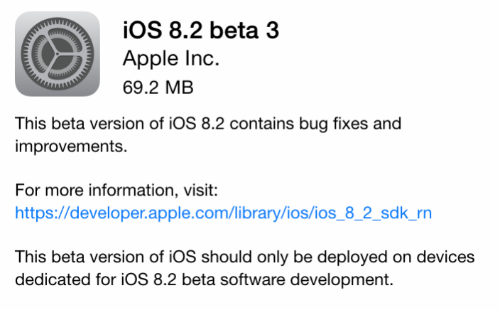 It has been a tough start for iOS 8 and the Health app. Apple had to release iOS 8.0.1 in September to fix a bug that was delaying developers from releasing HealthKit-enabled apps to the App Store. However, iOS 8.0.1 contained its own bug that caused some iPhone owners issues with their cellular data and Touch ID, prompting Apple to quickly release iOS 8.0.2 one day later.
iOS 8.2 is expected to be released to the public around the same time the Apple Watch launches in 2015. Registered iOS developers can download the third beta now OTA or via Apple's developer portal.