Submitted by Frank Macey on
There's a new Bluetooth keyboard in town, billed as the first Multi-touch keyboard ever. The TextBlade weighs only 1.5 ounces (42.5 g) and uses magnets to fold up for easy carrying. According to the manufacturer WayTools, eight physical keys use Multi-touch and MagLever technology to provide a precision touch-typing experience.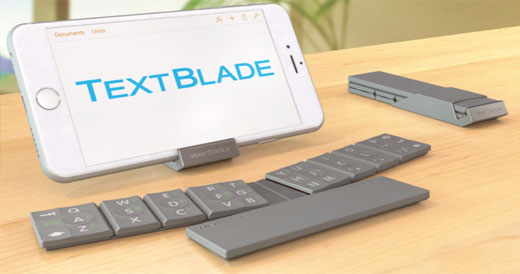 Full-size 19mm key spacing and 2mm of travel make TextBlade keys the same as a standard keyboard. In addition to characters, the keys are MultiLayer, which provides access to symbols, editing shortcuts, and iOS-specific controls. The space bar contains a lithium polymer battery that charges in less than an hour and lasts up to a month.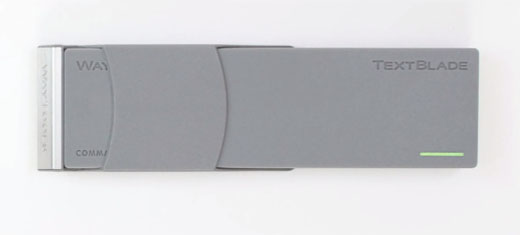 The TextBlade is hingeless, relying on magnets to self-pack into a slim, pocketable form factor. The device includes a stand and built-in cordless NanoCharger, which grabs juice from any standard USB port.

When ready to type, TextBlade self-assembles via magnets and powers up. The keyboard connects to iOS using low-power Bluetooth 4.0. Construction is steel and polycarbonate, with a satin silicone base.
TextBlade's innovative frameless array eliminates all keyboard shudder, with rock-solid grip that hugs the table closer than a MacBook Air, so it's even easier on your wrist. TextBlade's ultra-low profile is half as thick as an iPhone 6.
The TextBlade arrives in February for $99. See the WayTools site for availability. As of this writing, the "pen-sized" keyboard is sold out until the first week of April.