Submitted by Marshall Walker on
Apple fans hoping to nab the 18-karat gold Apple Watch Edition for under $5,000 may want to start looking at the other collections. Twitter user Greg Koenig [via Forbes] estimated that the high-end Apple Watch Edition contains around 29.16g of gold in its casing. That's around $1,200 worth of gold at current prices. Once you factor in additional manufacturing and Apple's markup, Koneig says that the watch will retail for no less than $5,000. Ian Morris of Forbes thinks Apple will want to go a little higher at $8,000.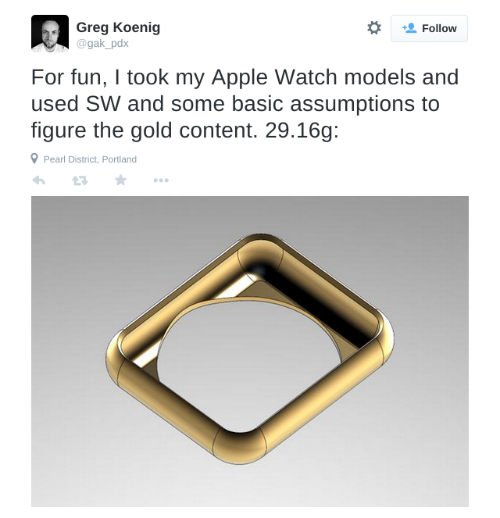 The Wall Street Journal said on Monday that the "Apple Watch Edition is expected to be among the most expensive product the company has ever sold, likely surpassing the $4,000 Mac Pro computer". In the same report, the WSJ claimed Apple had ordered five to six million units of the Apple Watch from its suppliers, with the high-end model making up the least amount of the order. Apple is expected to increase production of the Apple Watch Edition to one million units per month after the initial launch in April.
A recent 9to5Mac poll showed that 80% of its readers think Apple will charge less than $4,500 for the Apple Watch Edition.
Hopefully Apple plans to set the record straight before April, or it looks they may have a lot of disappointed fanboys and fangirls on their hands.