Submitted by Frank Macey on
Apple has updated the World Travel Adapter Kit, changing the contents of the package and the price. Those traveling to Brazil will find a newly included AC adapter plug, making it possible to connect to Type N electrical outlets. This brings the total number of plugs in the kit to seven.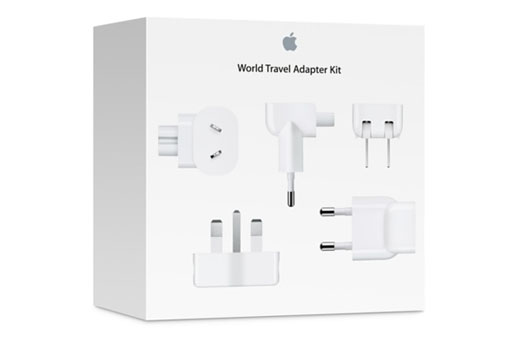 The price of the adapter kit on the Apple Store has dropped $10, reducing the cost of the new kit to $29. One reason for the lower price may be that Apple has stopped shipping a USB cable and power adapter in the box.
The adapter kit provides compatibility with a wide variety of Apple products and power adapters, including the iPad, iPhone, and iPod, as well as MagSafe and MagSafe 2 adapters. Click here for a complete list of compatible Apple products and power adapters.
When it comes to the AC plugs, they are designed to directly support outlets in many countries around the globe. Click here for a complete list of plug types included in the Apple World Travel Adapter Kit. Supported regions and countries include Australia, Brazil, China, Continental Europe, Hong Kong, Japan, Korea, North America, and the UK. For convenience, Apple has laser-etched region compatibility information on each plug adapter.
Of course, each adapter can work in many additional locations around the world. Travelers can contact the local area at their destination to find out specifics, or check the
World Plugs page at the International Electrotechnical Commission
(IEC).