How do I change the skin tone of an emoji on my iPhone?
Apple introduced a redesigned emoji keyboard with the release of iOS 8.3 on April 8, 2015. The updated emoji picker not only features over 300 new characters, but it now offers more diverse choices. Here's how you can change the skin tone of some of the emoji characters located on the stock iOS keyboard: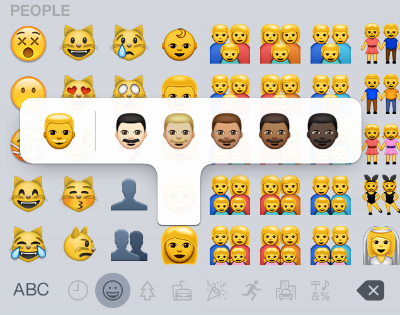 1. Open the emoji picker by tapping the the smiley face icon located on your stock iOS keyboard. The icon is located between the "123" and dictation options at the bottom of your keyboard.
2. Select the "People" emoji section by tapping the smiley face option at the bottom of the emoji keyboard.
3. Hold down the emoji face you want to change and slide your finger to select the skin tone you want. The selected emoji will stay that skin tone until you change it.
iOS 8.3 also features new same-sex families. These are also located in the "People" section, but they are only available in yellow.