Submitted by Sammy Snyder on
As promised, Blizzard Entertainment has updated Hearthstone: Heroes of Warcraft with an "all-new intuitive interface" for the iPhone and iPod touch. The game has also received a few minor bug fixes and an indicator to alert you if you're losing your connection.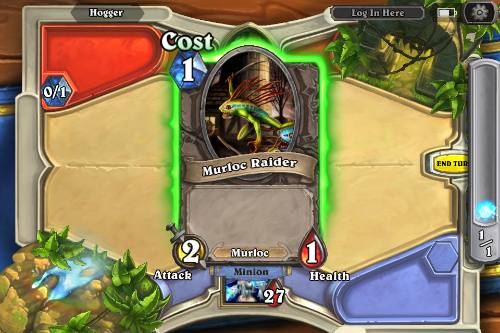 Hearthstone is a collectible card game like Magic the Gathering. The game is free to play and promises to be easy for beginners to learn. Players can build their own collection of cards by participating in 1-on-1 battles and single player adventures. The game also features a pay-to-play Arena mode and the option to buy additional cards as in-app purchases, but spending real money is not necessary.
Players can begin playing Hearthstone by signing up for a free Battle.net account online or through the iOS app. The account allows users to easily switch between the iPad, iPhone or desktop version of the game. The iOS app is available for free on the Apple App Store. The app requires iOS 5.0 or later but only supports the iPad 2 or newer, iPad Air or newer, all three iPad mini models, and now the iPhone 4s or newer and fifth-generation iPod touch. You will need OS X 10.7 or later to play Hearthstone on your Mac.