Submitted by Marshall Walker on
The Watch is here, according to Apple's website, but the Watch isn't really available until June for those who weren't lucky or smart enough to pre-order it. The one good thing about waiting is it gives you time to order your Apple Watch accessories like screen protectors, Watch stands and charging docks. Today we will be looking at a few available cases and screen protectors for Apple's wearable device.
Pickings are a little slim at the moment since the Watch just officially launched today. These aren't necessarily the best options, but they're currently some of the only options. Popular Apple accessory makers, like Otterbox and Griffin Technology, have not announced their Apple Watch accessories yet.
If you think buying a case for your Apple Watch is silly, but still want extra protection from scratches, then Zagg's InvisibleShield is what you're looking for. The Zagg InvisibleShield for the Apple Watch is a thin film that covers your display to protect against accidental damage. The screen protector also helps keep the original fingerprint-resistant oleophobic coating of the Apple Watch from wearing down from usage. Zagg promises each InvisibleShield provides HD-quality clarity and will stop your display from being accidentally scratched. The InvisibleShield also comes with a lifetime guarantee.
Get the InvisibleShield HD for the 42MM Apple Watch
Get the InvisibleShield HD for the 38MM Apple Watch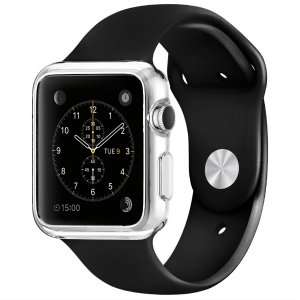 The Apple Watch Case by Spigen is a small ( 0.8mm thick) snap-on cover made of lightweight TPU material. It features cutouts for the digital crown and Watch sensors. The case is also supposed to be easy to remove and does not obstruct you from changing bands. This looks like a decent solution for Apple Watch owners who are active and are worried about bumping or slamming their Watch, but we haven't personally tested it.
The Spigen Liquid Crystal Apple Watch Case is currently on Amazon.com. Spigen also offers a variety
of other cases ranging from "heavy duty" to "slim" on Amazon.
Luvvitt's Apple Watch case looks like a tiny shield that you snap over the face of your device. It features a stainless steel front cover and tempered glass screen protector. The case promises to "fit like a glove and mimic the Apple Watch design" while protecting it from scratches and other accidental bumps or falls.
The Luvvitt Steel Apple Watch Case is on Amazon.com. It also ships with a regular screen protector, in case you don't like the look and feel of the tempered glass option.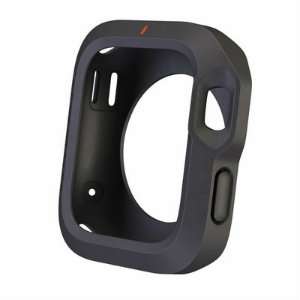 The ActionProof Bumper Case isn't available yet but pre-orders are currently being accepted. The bumper has been designed to provide "360º rubber shock absorption" so you can wear your Watch during extreme activities. The ActionProof Bumper Case is available in black, white and orange through actionproof.com.
As usual, there are also a bunch of budget accessory options available online. The i-Blason Rugged Protective Case with extra bands is available for pre-order, and there are plenty of cheaper quality screen protectors to choose from.
Check out these Apple Watch charging docks.