Submitted by Chad Shmukler on
Amongst the Black Friday mayhem Zagg, makers of the invisibleSHIELD, have announced today what just may be the best set of iPhone earbuds released to date, the Zagg Z.buds. They also just may be the best afforable holiday gift for iPhone owners. Now, in all fairness, we've yet to get our hands on the Z.buds in order to review them (though we will have a review available soon enough). However, judging by the features and quality the Z.buds present, and the accolades they've already received, there are plenty of reasons to get excited.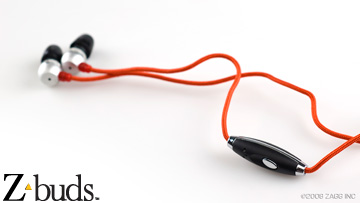 First and foremost, earbuds are about sound, right? Zagg claims the Z.buds have sound quality equal to or better than earbuds costing upwards of $150. That sounds good to us. That, however, is presumably where the Z.buds association with other earbuds ends.
The Z.buds are all about design innovation. So much so, that they've been awarded the 2009 CES Innovations Design and Engineering Showcase award. The Z.buds pack such features as a tangle-free nylon cord, 3 pairs of sliders to help with cord management, an iPhone microphone with built in button controller, interchangeable earbuds for achieving a perfect fit, and a button loop to keep the Z.buds cord flush against your shirt. Zagg, however, doesn't stop there when it comes to packing in features.
The most exciting feature
the Z.buds
bring to the table, in our opinion, is the in-line volume control. That's right, that means no more lugging your iPhone in and out of your pocket everytime you need to raise or lower the volume. Where has this feature been on all the other buds out there? The Z.buds also use a jointed cord design which allows for multiple configurations for wearing the Z.buds around your neck. See the image below for a full summary on the Z.buds cord system as well as a full overview of all of the Z.buds features.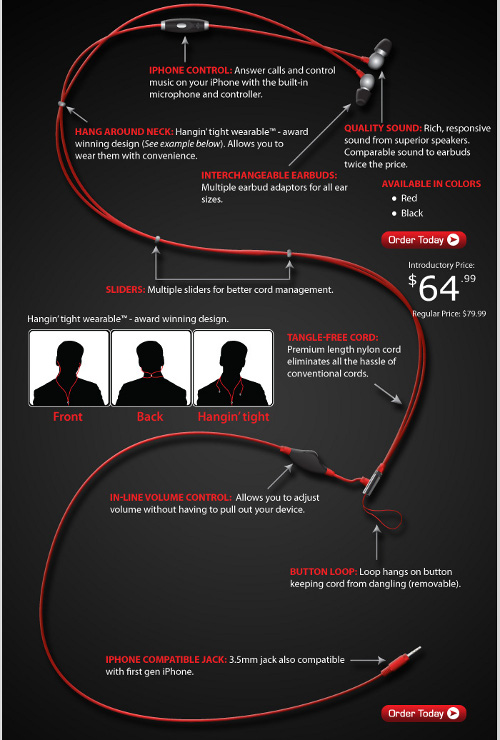 The Z.buds come in both red and black and are available for order and shipment directly through Zagg for a very reasonable introductory price of $64.99 (normally $79.99).