Submitted by Thomas Estilow on
Sometimes it's easy to forget that the iPhone is capable of producing quality audio. If you're going to spend money on accessories, a headphone upgrade is essential. The stock earbuds are functional, but let's face the facts. The white plastic earbuds that everyone wears don't sound that great. They're not very comfortable to wear for long periods, and the cord gets tangled after two seconds in a jacket pocket. Getting a pair of Z.buds is like getting a whole new iPhone. Let me tell you why.
The Pyramidal Package
As soon as the Z.buds arrived I was struck by the unique packaging. ZAGG is all about innovation, and since the Z.buds have won the 2009 CES Innovations Design and Engineering Showcase award they have a box to match the product inside.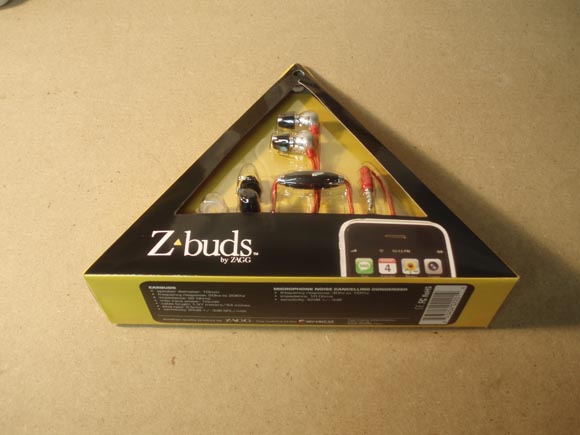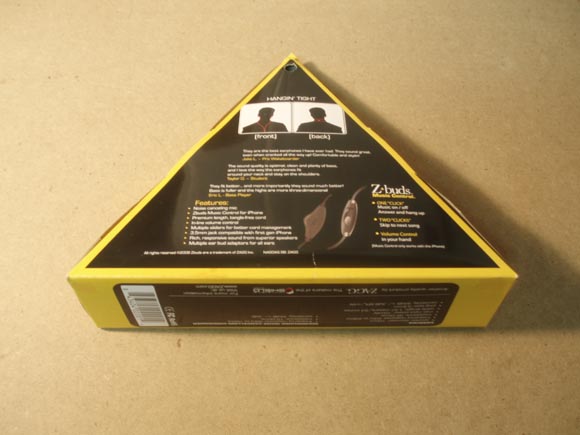 The plastic insert pulls out of the recyclable cardboard box. I was impressed that the Z.buds are marked RoHS compliant. For those who don't know, that means Zagg is using cutting-edge manufacturing technology to make Z.buds free of toxic chemicals and heavy metals like lead.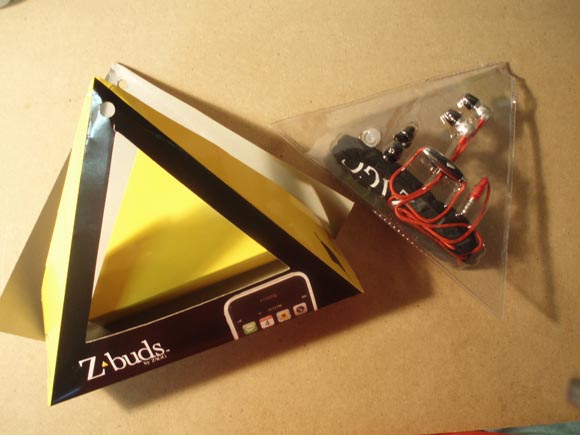 Scissors are required to open the plastic part of the package. Besides the
Z.buds
you'll find two sizes of clear silicone ear bud adaptors, two sizes of black foam adaptors, and a set of black silicone adaptors. The smaller black foam adaptors come already attached to the Z.buds. There's also a black drawstring bag you can use for storage of the adaptors. Although it's possible, you probably won't use the bag to store the actual headphones. You will never want to take them out of your ears or unplug them from your iPhone.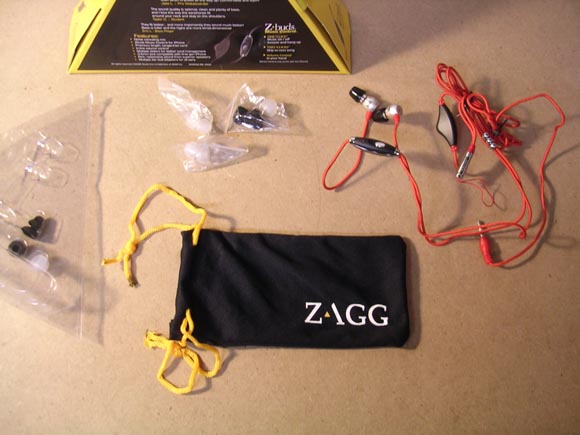 Wearing the Z.buds
At first it was awkward putting the Z.buds on. They are completely different than the stock earphones. There are three sliders on the nylon cord, and one of these must be pulled up first, then you can put your head through the hole that is created between the left and right cords. The ear buds can then be pulled up from behind your neck and into your ears. The microphone/call answer button will hang to the side almost over your shoulder.
The Z.buds are brilliant in their simplicity. Although it may feel strange to have the mic up in this position, it guarantees the mic will never be covered or blocked by a jacket, for example. The mic will also not dangle down and get in your way. When you pull the phones out of your ears they drop down to the side and are suspended by the slider behind your neck (what Zagg calls Hangin' Tight). This allows them to be easily located and re-inserted.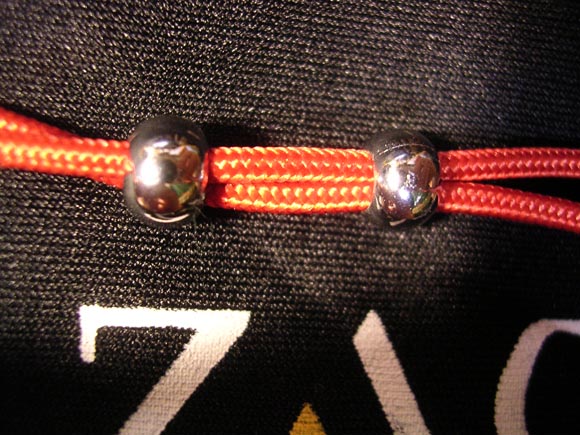 Ear Fit
I've always had difficulty with the fit and comfort of in-ear headphones. Again, the Z.buds impressed me right away. The black adaptors that came on the unit are similar to foam earplugs. Holding them in my ear for a few seconds I could hear them expanding to fit. With no music playing I realized they were actually blocking out sound much like earplugs. This makes them incredibly comfortable to wear and they actually stay put. Part of this is also because they are suspended by your neck and not hanging the full weight of the cord on your ears.
Sound Quality
Deep bass and crisp highs. No distortion at high volume. In fact, Z.buds sound like much larger headphones. Since they block out external noise your music sounds great even when walking down crowded streets or if other music is playing nearby. For the first time with in-ear headphones I'm able to focus on what I want to hear instead of other noise. One of the best features of the Z.buds is an in-line volume control. This makes it easy to change the volume without pulling out the iPhone. My only complaint is that I found the start/stop button (next to the mic) to require firm pressure to activate. This is also the answer call button, which brings us to calling on the Z.buds.
Call Quality
Even with the mic suspended up by the side of my head I was able to make and receive calls without a problem. Indoors, outdoors, and in noisy environments the person on the other end of the line was able to hear me clearly. One thing I found strange was talking with both Z.buds in my ears. The earphones are so good at blocking outside noise that it was difficult to tell how loudly I was talking. Personally, when I make phone calls (especially driving) I only use one earphone anyway. No reason to hear my caller's voice in stereo.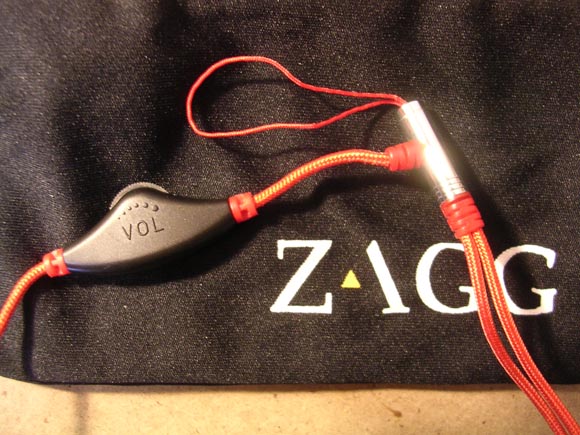 Cord Management
Besides the high quality of the earphones themselves, the cord is well-constructed and looks sharp. The Z.buds come with either red or black nylon cords. Metal sliders stay where you put them, they actually take some effort to move. I almost dropped my iPhone the day I received the Z.buds and luckily they were plugged in. I actually stopped it from hitting the floor by holding onto the Z.buds cord and the plug didn't budge. Of course I wouldn't recommend hanging your iPhone by the cord if you don't have to.
There's over three feet of cord to work with when the Z.buds are hanging around the neck. Even with all this, after throwing them into a jacket pocket the cord does not get tangled up. This feature alone makes purchasing the Z.buds worth every penny. There's a loop of string in the middle (next to the volume control) that you can use to hang on a button to keep the cord from dangling. For those like myself who think this is cord management overkill, the loop is removable by simply unscrewing a small metal cap.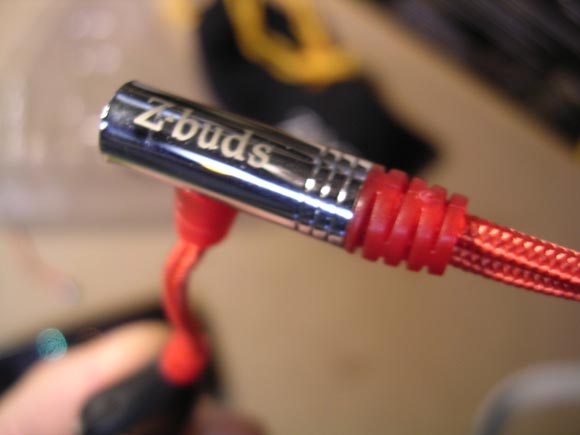 Overall
With quality construction and unique design, Z.buds have reminded me that the iPhone is a great portable music player. They are a great value for $79.99. I would expect to pay more for earphones that look, fit and sound this good.
What's even better is that Z.buds are now available at an introductory price of $64.99 directly through ZAGG's website at Zbuds.com.