Submitted by Marshall Walker on
If you're the type of person who buys the newest smartphone with the latest camera technology only to use filters to make your photos and videos look old, then VHS Camcorder from Rarevision is the app for you. VHS Camcorder transports you back to 1985 to when camcorders ruled kindergarten assemblies and annoying family functions. The video app offers a variety of features which allow you to shoot "aged videotape recordings" from your iOS device.
Rarevision promises that their app delivers the best throwback videos ever with tape noise, static and even tracking distortion. Users can easily add other cheesey 80s-inspired effects by simply shaking their phone, and even "dramatically enhance the cheese factor" of their videos by utilizing the phony zoom lense option. Other features include bad sound recording, a widescreen option and built-in clip viewer.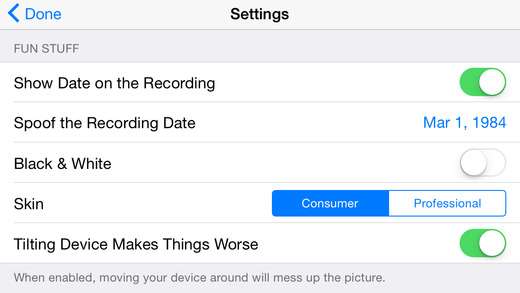 You can use this app to shoot retro horror slasher films, to spice up your sex life or to add some character to all those boring family videos you are stuck recording anyway.
Rarevision suggestions for using the app include:
Create videos of your kids that look like videos from your childhood
Capture your 80s and 90s-themed parties
Impress that girl you're obsessed with by using our app to convince her you built a time machine
Shoot your own found footage movie and become a big Hollywood director like all those other guys did
VHS Camcorder is available on the App Store for $3.99. It supports all devices running iOS 8.0 or later.