Submitted by Fred Straker on
Adobe has added to its list of iOS apps with yesterday's release of Photoshop Fix and Capture CC. Both are available on the App Store free of charge, giving iPhone and iPad photographers more options for creating the perfect image. When it comes to Capture CC, features found in several Adobe apps have been consolidated and the older apps will no longer be updated.
These apps include Brush CC, Color CC, Hue CC and Shape CC, which have effectively been replaced by Capture CC. See more about Capture CC on iTunes.
The complete list of features in Capture CC includes:
BRUSHES
Turn inspiring photos or graphics into high-quality ribbon-, scatter- or vector-type brushes. Refine them with color, size and repetition adjustments.
COLORS
Extract color themes from photos and the world around you. Play with presets based on color theory — or use a color wheel and RGB sliders for manual changes.
LOOKS
Pull color and light from your favorite moments to make video-enhancing filters. A 3D histogram and intensity slider let you visualize and fine-tune your Looks.
SHAPES
Instantly convert what you see, or have drawn, into vector graphics. Use the slider to adjust the contrast and create fills. Later, toggle add/remove options to include the right details.
Of course, Capture CC syncs with Creative Cloud accounts and uses CreativeSync to make sure everything is accessible right where you left off on different devices.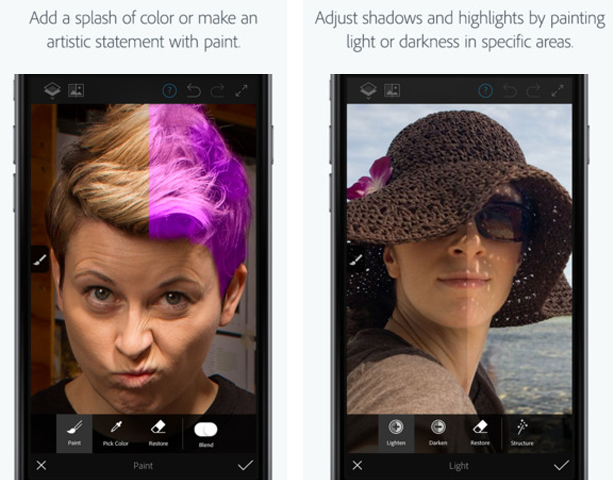 Adobe Photoshop Fix also syncs your work with Creative Cloud and CreativeSync. In fact, Fix provides a full suite of image-editing tools for iOS, and will automatically convert edits into layers and output a PSD file. The resulting files can then be edited on a desktop version of Photoshop CC.
High-powered tools such as Heal and Liquify are now available on mobile devices thanks to Photoshop Fix.
Here is the full list of features from iTunes:
Retouch and restore photos using tools that give you the exact look, structure and feel you want:
- Liquify — Push, pull, rotate, swell or reshape any area to create subtle or drastic effects.
- Heal and patch — Fix imperfections using content from surrounding areas and then blend the result.
- Smooth — Simply paint to smooth or sharpen skin, landscapes or other content.
- Lighten and darken — Add or remove light from specific parts of a photo.
Edit and adjust photos using a variety of essential tools:
- Color — Desaturate to remove all color or to create a mix of color and black-and-white.
- Paint — Get precise effects with an eyedropper that lets you sample colors, an adjustable brush and an eraser.
- Adjust — Add vignettes and control exposure, contrast and saturation
- Defocus — Blur part of a photo to draw attention to your key subject.
Both new Adobe apps require iOS 8.1 or later and need under 90 MB of free space each to install. 2 GB free storage is available with a basic Creative Cloud membership, and 20 GB is available for $1.99 per month via in-app purchase on Capture CC.