Submitted by Fred Straker on
There are many third-party camera apps for iOS. While most users are happy with the stock iOS Camera app, developers can add many features to streamline the image capture process. Top Camera 2 from Lucky Clan revamps their long-running Top Camera app, and updates the interface for iOS 8 users. The new version integrates various shooting modes, filters, and editing functions for stills and video into one place.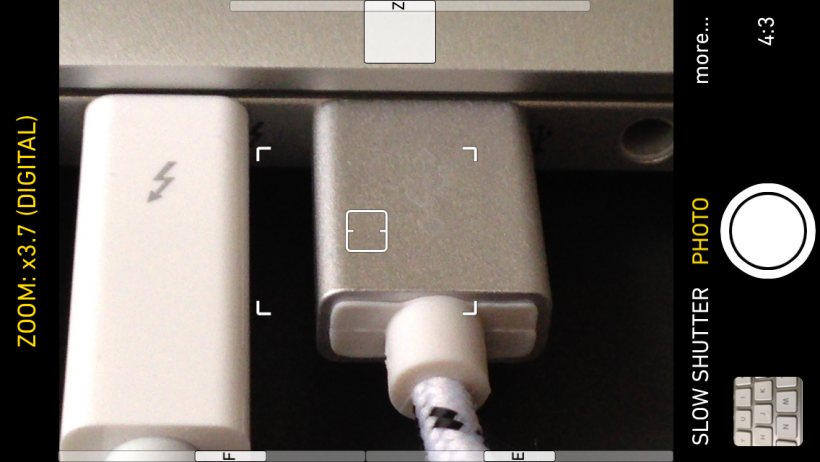 There are eight modes that bring features such as slow motion, burst mode, and night stabilization to older devices running iOS 8. Once a mode is selected, there are several enhancements to the live viewfinder interface. First off, sliders along the side of the screen simplify manual exposure, manual focus, and zoom capabilities. Tapping a slider will adjust the item and display numeric information. These can also be locked into position before the image is reframed.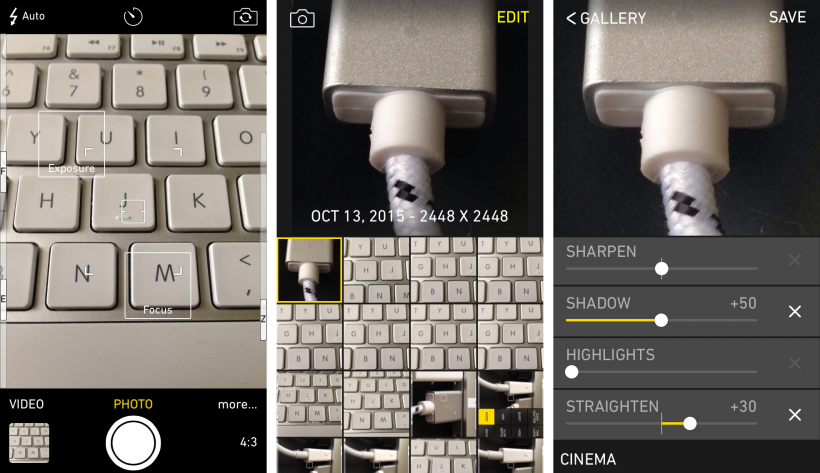 The focus box in the center of the image has a Virtual Horizon, which turns green when the iOS device is level. Otherwise it will display a line showing the angle of the device from center. Of course, tapping and dragging the focus box will separate auto exposure and focus points into two distinct portions of the scene. Photos and videos will be captured directly to the photo library.
Without leaving Top Camera 2, photos already taken can be viewed and information such as the resolution and date of capture are clearly displayed. Dropping down to the photo editor from the gallery is achieved in one tap. A variety of image enhancements are available, including standards such as exposure and contrast, etc. Also useful are sharpen, shadow/highlight, and straighten options which give the app more power.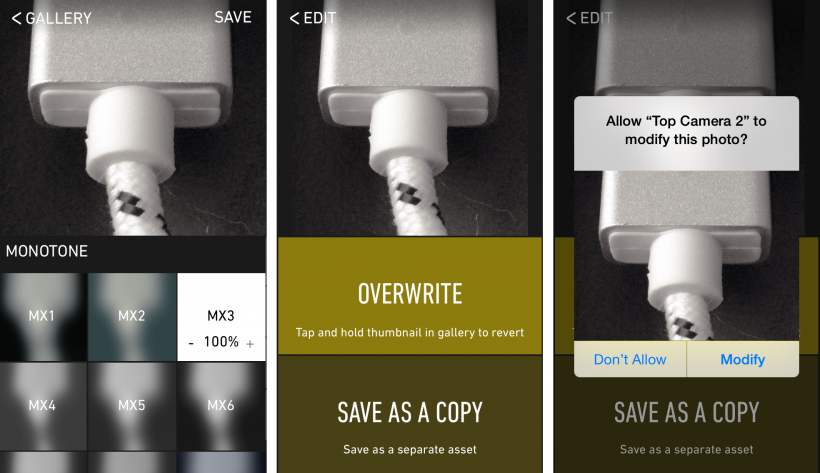 Beyond the editing functions are 64 color-correction filters for special effects. Ranging from Vintage to Pastel and Monotone, they can be previewed with one tap in real time. All edits can be reversed later by reverting to the original image, or a new image can be saved to the photo library instead.
Version 1.4 brings full support for 4K video recording on the iPhone 6s and iPhone 6s Plus. Overall, Top Camera 2 brings a handful of useful enhancements to the iOS camera, especially for those with older devices running iOS 8 or later. One of the only drawbacks to some users will be price, with Top Camera 2 currently going for $4.99 on the App Store.