Submitted by Anders Batten on
HomeKit-enabled devices from Hunter Fan Company, iDevices and iHome are making a splash at the Consumer Electronics Show in Las Vegas, Nevada. All three companies have unveiled iOS-controlled home products such as ceiling fans and dimmer switches.
The Hunter Fan Company announced two Wi-Fi enabled fans named Symphony and Signal at CES 2016. iOS users can control Symphony and Signal with Siri or sync them to other HomeKit-enabled products to create "custom scenes." An example of a custom scene given by Hunter include automatically turning on the fan's light, locking your door and setting your temperature "in just one step."
Symphony will be available in fresh white for $329 later this year. Signal features satin nickel housing and reversible wood-finished blades for $379. Both ceiling fans will be available in the spring through HunterFan.com, Amazon.com, Build.com, BestBuy.com, HomeDepot.com, Lowes.com and Menards.com.
iDevices showed off its new Siri-controlled Socket, Wall Switch, Dimmer Switch, and Wall Outlet. The iDevices Socket allows users to automate standard light bulbs instead of having to buy smart bulbs. The HomeKit-enabled device connects to your basic light bulb socket and lets you control your bulbs using your iOS device or Siri. You can also control your lighting situation by replacing your standard light switches with iDevices' Wall Switch or Dimmer Switch. The Wall Switch allows you to turn your lights on and off and the Dimmer can adjust the brightness of your bulbs.
Unlike the smart switches which can be moved from room to room, the Wall Outlet needs to be hardwired to automate your home. The iDevices Wall Outlet also features Siri support. Pricing and availability are unknown for all four devices at this time.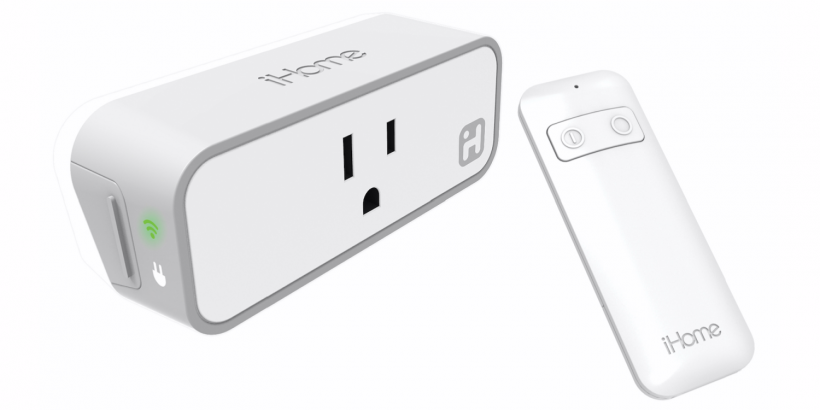 iHome today announced a few new products at CES including a few portable speakers, charging docks and Bluetooth headphones. The accessory maker also updated its SmartPlug with power consumption monitoring and remote control support. The iHome SmartPlug allows users to control any device connected to the adaptor using their mobile device, tablet or new remote control. The iSP8 SmartPlug will be available this year for $49.99.